Home
|
Encylopaedia
|
Composers
| ORBITAL
ORBITAL (1987-)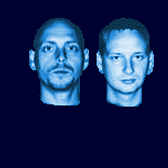 Orbital (named after London's M25 circular motorway) was formed in 1987 with Phil (b. Jan 9 1964) and Paul Hartnoll (b. May 19 1968) from Sevenoaks, UK. Phil was previously a bricklayer and Paul had been in a band called Noddy and the Satellites. Their kit consisted of a four-track, keyboards and a drum machine. Their musical influences include the Dead Kennedys and early Hip Hop music as a result of a visit to New York during the mid 1980s. Their live debut occurred in 1989 at the Grasshopper in Kent, UK and their debut single was "Chime" (1990), first on Jazzy M's Oh-Zone Records where only a thousand copies were made and then re-released on FFrr Records. It reached no.17 in the UK charts and launched them into an appearance on Top of the Pops television programme. The total production cost was ?2.50. The track became a rave anthem. Other singles to follow include "Omen" and "Satan".
Their "Orbital" album containing the single "Midnight" was rleased in 1991 and two EPs were released in 1992, "Mutations" and "Radiccio" which reached the UK top 40. In 1993 they set up and headlined the Midi Circus tour throughout the UK. Their "Orbital 2" (otherwise known as the brown album) was also released in 1993 containing the tracks "Halcyon + on + on", " Rewind" and "Impact (The Earth is Burning)". It reached no.28 in the UK charts and Orbital toured America with Moby and Aphex Twin. 1994 saw the release of their "Peel Session" EP, which was recorded the previous autumn. Their "Diversions" EP was released in the US only and they made appearances at Woodstock 2 in the US and Glastonbury.
Their next album "Snivilization" containing the single "Are We Here?" was also released in 1994 and reached no.4 in the UK's album charts. The album cover featured art work by John Greenwood. 1995 saw them play at Glastonbury and Tribal Gathering and they remixed Madonna's "Bedtime Stories". Other work included a track "WipEout" for the Sony Play station game and an untitled EP featuring "Times Fly".
Other releases include "The Box" single (April 1996) which reached no.11 and "Belfast" single (1999) which used the same vocal sample as the Beloved (Feather on the Breath of God - Sequences and Hymns by the Abbess Hildegard of Bingen). Other albums followed with their fourth, "In Sides" (1996) which reached no.5 in the album charts, "Middle of Nowhere" (1999) and "The Altogether" (2001) containing the track "Meltdown". They re-released "Satan" in 1996 which reached no.3 in the charts and in 1997 they released "The Saint" theme tune as a single which also reached no.3. Other notable events in 1997 include performing at Tribal Gathering and Phoenix Festival.
Essential Albums:
Click on album cover to buy.

Discography:
Orbital (1991)
Orbital 2 (1992)
Snivilisation (1994)
In Sides (1996)
Middle of Nowhere (1999)
The Altogether (2001)