Home
|
Encylopaedia
|
Composers
| ORFF
Carl ORFF (1895-1982)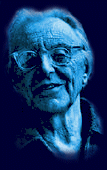 Carl Orff was born in Munich, Germany in 1895 and showed a talent for the piano, cello and organ. He was a composer, teacher and conductor who studied at the Munich Academy before he left to join the army in 1914. In 1915 he became the Kapellmeister at the Munich Kammerspiele until 1917 when he went on to work at Mannheim's Nationaltheater and the Landstheater in Darmstadt. He worked in opera houses until he returned to Munich and commenced studies under Kaminsky in 1920. In 1924 he founded the G?nther School in Munich with Dorothy G?nther where his main interest in childrens' music education began. He pioneered the use of simple percussion instruments in schools to enable children to make music without having much theoretical or technical background. His teaching methods, the Orff schulwerk, are still in use today, all over the world. In 1961 he was invited to set up the Orff Institute in Salzburg so that his teaching methods could be used first hand.
Orff's early influences include Debussy, then later Schoenberg and Strauss. In 1930 Orff took up the post of conductor of the Munich Bach Society for three years. Here he became interested in 17th and 18th century composers such as Bach and Monterverdi. His fascination with medieval and Renaissance music resulted in his most famous work "Carmina burana" (1936) with ostinato based rhythms which some mistakenly regarded as a deliberate simplification of music for the Nazis. The work is divided into three parts entitled "Spring", "In The Tavern" and "Love". When this work was first premiered at Frankfurt am Main in 1937, Orff disowned all of his previous work. Later on however, some of his work was revised and restored.
Orff composed music for the 1936 Olympic Games and controversially agreed to write new incidental music for Shakespeare's "A Midsummer Night's Dream" to replace that of Mendelssohn's jewish version. Other work includes twenty music-theatre works in addition to editions of other composers works such as several operas of Monteverdi including "L'incoronazione di Poppea" "Lamenti" (1958) and "La Favola d'Orfeo" (1940). He also composed numerous cantatas and an Entrata for orchestra "Entrata after William Byrd" (1940, revised 1954).
From 1937 onwards he composed exclusively for the stage. Examples are "Carmina Burana" (1935-36) (however this work is usually performed in a concert version), "Catulli Carmina" (1942), "Trionfo di Afrodite" (1950-51), "The Moon" (1938), "The Clever Girl" (1941-42), "Die Bernauerin" (1944-45), "Astutuli" (1945-52), "Antigonae" (1947-49) and "Oedipus der Tyrann" (1957-59) (the latter two works based on Sophocles). Later work included "Ein Sommernachtstraum" (1966) based on Shakespeare and "Rota" (1972). Orff composed music for the opening of 1972 Munich Olympic Games and taught well into old age.
Essential Albums:
Click on album cover to buy.