Home
|
Encylopaedia
|
Composers
| PAGANINI
Niccolo PAGANINI (1782-1840)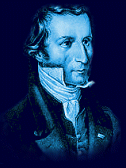 Niccolo Paganini was an Italian violinist whose playing was so technologically advanced compared to others that the gossips declared he was in league with the devil. Gossip aside, his technique did much to expand the scope of the violin and he was probably the first commercial artist as he did little to dispel the rumours. His showmanship was quite popular with the public and he was probably the first musician to employ an agent. He mutilated his left hand as a child in order to increase the spread of his fingers and he developed the use of artificial or stopped violin harmonics to an astounding degree and would usually play harmonics on two strings at once. He also tuned his violin in such a way as to achieve special effects. He used several styles of bowing and his intonation was unfailingly accurate.
He started his career studying with his father and he underwent his first tour at the age of thirteen, by which time he was composing himself difficult pieces to play. Berlioz wrote "Harold in Italy" with Paganini in mind playing the viola which was his second instrument, however he never played it. By 1828 he had a worldwide reputation as the greatest violinist and the same year saw him play a series of recitals in Vienna. Other composers such as Chopin, Schumann and Liszt greatly admired him.
During a love affair in 1801-4, he took up the guitar which he composed six string quartets with a guitar part. His violin compositions include eight concertos and other pieces. Some of his themes were used by other composers such as Liszt, Brahms and Rachmaninov.
He was director of music to Princess of Lucca during 1805-13. From 1834, he made fewer and fewer appearances and he retired to Parma. In 1837 he lost quite a bit of money when a venture to start a casino in his name in Paris failed. He died in Nice from cancer of the throat in 1840 and it is rumoured that he refused to see a priest. He left a fortune and was extremely generous to colleagues when he was alive.
Essential Albums:
Click on album cover to buy.