Home
|
Encylopaedia
|
Composers
| PORTISHEAD
PORTISHEAD (1991-)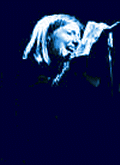 (1991-)
Members are Geoff Barrow who started out as a tape operator at the Coach House in Bristol, working with Massive Attack and Neneh Cherry (for whom he wrote "Somedays" on her 1992 "Homebrew" album). With the aid of an Enterprise Allowance grant, Barrow was able to pursue his interest in music and he got together with jazz guitarist and musical director Adrian Utley, drummer/programmer Dave MacDonald and vocalist Beth Gibbons. Gibbons started out singing Janis Joplin cover songs on the pub circuit and she met Barrow on a job creation scheme.
One of their first projects was a soundtrack to a film "To Kill A Dead Man" with themselves as the actors. An A & R man from the UK label Go! Beat, Ferdy Unger-Hamilton, encouraged Barow to remix Gabrielle's "Dreams" before signing the band in 1993. Barrow continued to produce re-mixes for other artists including Paul Weller, Depeche Mode, Primal Scream and Ride. Their first singles "Numb" and "Sour Times" received a good reaction but the album "Dummy" (1994) did not initially do too well in the UK charts. Portishead disliked giving interviews, were reluctant to play live and did not receive much radio air-play support.
Their third single, "Glory Box", entered the UK charts at no.13 in January 1995. City Radio promoted their music and "Dummy" won several Album of The Year awards from various magazines including MixMag, ID, The Face and Melody Maker. They were awarded the Mercury Music Prize for best album of 1995. Their style of music became classified as trip-hop. "Dummy" also did extremely well in the US, selling over 150,000 copies without the band even having to tour.
After "Dummy", Portishead contributed towards several soundtracks, including two low budget art movies and "Tank Girl". Their second album "Portishead" (1997) was delayed due to Barrow having a creative blockage. It contained the single "All Mine". A live album "P live in NYC" followed in 1998.
Essential Albums:
Click on album cover to buy.

Discography:
Dummy (1994)
Portishead (1997)
Glory Times (1998)
PNYC (live) (1998)