Home
|
Encylopaedia
|
Composers
| PRIMAL SCREAM
PRIMAL SCREAM (1985-)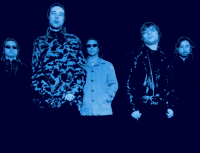 Primal Scream began in 1985 in Glasgow as a psychedelic based rock band signed to Creation label. Members were originally Glaswegian but have constantly changed and now include singer Bobby Gillespie (who previously played drums for The Jesus and Mary Chain), Martin Duffy, Robert Young, Mani formerly of the Stone Roses, Andrew Innes (guitar) and Duncan MacKay.
Their first hit was "Loaded" which was mixed by DJ Andy Weatherall of the Boy's Own Posse and used Peter Fonda's "We wanna be free" samples from the film "The Wild Angels". It reached UK no.16 in 1990. The follow up was "Come Together" with Weatherall and Terry Farley. Other tracks include "Higher Than The Sun" which merged acid rock with acid house and "Don't Fight It, Feel It".
Other albums to follow include "Sonic Flower Groove" (1989) and "Screamadelica" (1991) which contain the tracks "Come Together", "Loaded" and "Movin' On". For this album, Primal Scream worked with Weatherall and Hugo Nicholson, in addition to the Orb and Jimmy Miller. It was hailed as the album of 1991 and won the Mercury music award.
Other releases include the "Dixie-Narco" EP in 1991. In 1994, they released the rock album "Give Out but Don't Give Up" which wasn't as successful as the previous album and also appeared on the 1996 Trainspotting soundtrack. Their "Vanishing Point" album (1997) marked the work of the newcomer Mani on bass. The album "Exterminator" was released in 2000 from which the single "Kill all Hippies" was taken.
Essential Albums:
Click on album cover to buy.
Discography:
Sonic Flower Groove (1987)
Primal Scream (1989)
Screamadelica (1991)
Give Out But Don't Give Up (1994)
Vanishing Point (1997)
Echo Dek (1997)
XTRMNTR (2000)