Home
|
Encylopaedia
|
Composers
| BEETHOVEN
Ludwig Van BEETHOVEN (1770-1827)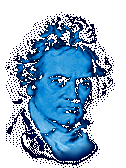 After Haydn and Mozart had developed the classical style, the way was now open for other composers to further push the boundaries. Beethoven was a German composer, born in Bonn where his father was a tenor singer. He went on to become one of the most well known composers among western music. He is often considered to have been the last classical and the first romantic composer. He played the piano, organ and violin.
Initially, Beethoven was a virtuoso pianist who played his own compositions to the public. He made his first public appearance when he was only 8, however he wasn't a strong child prodigy as Mozart was. By 13 he was assistant organist at Bonn and was sent to Vienna to study music at 17. In 1792 he went to study under Haydn and his early works reveal a strong link with him. The relationship between them however was not a fruitful one and when Haydn went back to England, Beethoven turned to J.G.Albrechtsberger as a teacher.
He made his first public appearance in Vienna in 1795 with one of his piano concertos. He was considered to be his most imaginative in his piano compositions. With the backing of one of his patrons, Prince Lichnowsky, he embarked upon a tour to Prague, Dresden and Berlin. In 1796 Beethoven began to find his hearing was beginning to worsen and by 1801 he realised he was going deaf. He went through a depressive period during 1802. From here onwards he composed music rather than played it and his style of music dramatically changed. His deafness did not affect his composing ability as he had a perfect musical inner ear and had always composed at his desk rather than at his piano. What it did prevent however, was his ability to hear new musical styles emerging and his deafness did affect his ability to be a performer, teacher or conductor. He performed his last public concerto in 1808.
He produced his greatest string quartets after he became totally death at forty-five and his "Christ on the Mount of Olives" oratorio was written in 1803. By 1800 he was widely recognised as a leading composer. As he was going deaf, he devised elaborate hearing aids so that he could pick up vibrations directly from his piano. He only wrote one opera "Fidelio" between 1805-1814 which was concerned with the subject of political oppression. He wrote this opera to order for the Theater an der Wien, however the first performance in 1805 was a failure. Beethoven shortened the opera before radically altering the work and performing it again in 1814.
During Beethoven's lifetime the orchestra was enlarged further to accommodate the new development in musical styles and technological advancements in instruments. The emergence of a new middle class after the French revolution provided a larger audience for public concerts. Beethoven did not see himself as a servant of music, instead he saw himself as an equal to the audience and in fact he was known to storm out of concerts when members of the audience were talking. It is thought that he redefined the nature of the symphony. He never had a paid post and was probably the first freelance composer.
Beethoven is best known for his piano sonatas of which he wrote 32, his op.27 no 2 being the famous "Moonlight" sonata and orchestral music. He wrote 5 piano concertos. He honoured Napoleon Bonaparte in his third symphony "Eroica" (1803) which was the longest symphony any composer had yet written. It became known as a large scale symphony being 40 minutes in length and started out as a tribute, however Beethoven ripped the title page up with the opinion that Napoleon had betrayed him by becoming Emperor. His 6th symphony "Pastoral symphony" is also a large scale symphony.
His symphonies, overtures, concertos, piano sonatas and string quartets are considered to be some of the world's greatest compositions. He was one of the first composers to use silence in his music. He also demanded that he conduct at his premi?re of his 9th Symphony. This was nearly a disaster as he was deaf, however a competent conductor was hiding behind him and the orchestra knew to watch him rather than Beethoven.
Beethoven never married but it is assumed that he had numerous affairs. He was known to have been infatuated with Countess Giulietta Guicciardi in 1801 and then fell in love with Josephine von Brunsvik. Both women were pupils of his for a while but the barriers of social class prevented any chance of marriage. It is also known that he had a stormy relationship with his ward and nephew Karl, the son of his brother Carl Casper. He succeeded in the courts to be Karl's official guardian as he thought the mother to be useless. He died on the 26th March 1827 and approximately 20,000 people paid their respects at his funeral. He left behind him hundreds of musical note books.
Essential Listening:




Musical Scores and Further Reading: