Home
|
Encylopaedia
|
Composers
| PURCELL
Henry PURCELL (1659-1695)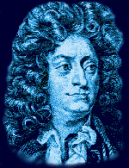 Henry Purcell was born in southern England in 1659 and was the son of one of the king's musicians. He took to music at an early age and he first trained as a boy chorister of the Chapel Royal and by the age of fourteen he was appointed as the tuner of the Westminster Abbey organ. At the tender age of eighteen he became composer to the king's violins in the Royal Band and a couple of years later he became organist of Westminster Abbey.
It was from around this time that Purcell began to compose more prolifically. He was well grounded in the arts of the French and Italians, from whom he gained familiarity with operatic and instrumental traditions. He published "Fantasias" in 1680 and then began work on a long series of official choral pieces. He also wrote 65 anthems in total. He composed extensively for the London theatres for plays by Dryden, Congreve, Brady and Shadwell, wrote music for Queen Mary's funeral in 1695 "Thou knowest, Lord, the secrets of our hearts", "4 canzonas for brass" and "2 elegies" for his own funeral and incidental music. He divided his time between religious music and theatrical.
His many church works include "Te Deum" and "Jubilate in D" for which he is most famous. His chamber and instrumental works are among the finest of the Baroque. In 1685 he composed "My Heart is Inditing" for the coronation of James II and four years later he was involved in the coronation of William III. His five semi-operas include "King Arthur" (1691), "The Fairy Queen" (1692) and "The Indian Queen" (1695).
He was widely acknowledged as England's most original and greatest composer in his own lifetime and subsequent generations have accepted him as one of the greatest English composers of all time. He single-handedly managed to create an English opera, but the impetus was not matched by librettos or by public demand. His one opera "Dido and Aeneas" (1689) written for a girl's school, remains the only taste of his style. He died at the age of 36 in London on 21st November 1695.
After Purcell, it was two hundred years before England produced another great native composer. The work of the Purcell society and of composers such as Holst and Vaughan Williams helped to further his popularity. Benjamin Britten also brought his work back to the concert hall. His music is still influential today - Michael Nyman's music for the Peter Greenaway film "The Draughtsman's Contract" is one of many examples.
Essential Albums:
Click on album cover to buy.