Home
|
Encylopaedia
|
Composers
| RADIOHEAD
RADIOHEAD (1991-)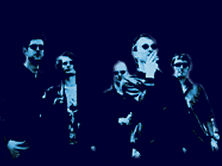 (1991 - )
Members include lead singer Thom E Yorke (b. Oct 1968), Jonny Greenwood (guitar, keyboards and xylophone), Colin Greenwood (bass), Ed O'Brian (guitar) and Phil Selway (drums). Yorke was given his first guitar at the age of 8 by his mother. He formed his first band 2 years later before joining a school punk band TNT. His next band was Radiohead which formed in 1991.
Radiohead was formed in Oxford, England and took their name from a title of a Talking Heads track on their "True Stories" album. Their influences include Joy Division and the Smiths. They played their first gig at the Hollybush Inn in July 1991 and "Prove Yourself" was voted Gary Davies's track of the week on radio 1. Their first big hit was "Creep" which reached the no.7 position in the UK in 1993 and no.34 in the U.S..
Their first album "Pablo Honey" was released in September 1992 under Parlophone but did not receive good reviews by radio 1 as they thought it too depressing. The album only managed to reach the no.78 album chart position in the UK. Their style however translated well to international tastes including U.S. and Egypt. Melody Maker also rated them and "Creep" made the top 10 singles chart in NME in 1992. "Pablo Honey" climbed to the no.25 position in March 1993 and MTV supported "Creep" with large amounts of airplay. The song became a hit in the US and it was subsequently re-released in the UK.
Their second album was "The Bends" (1995) which was produced by John Leckie and received favourable reviews. They even toured Europe with R.E.M. during that year. Their third album was "OK Computer" (1997) which reached the UK no.1 position in the album charts. They won the Best Alternative Music Performance category at the 40th Annual Grammy Awards. Their fourth album "Kid A" was released in 2000.
Essential Albums:
Click on album cover to buy.

Discography:
Pablo Honey (1993)
The Bends (1995)
OK Computer (1997)
Kid A (2000)