Home
|
Encylopaedia
|
Composers
| RED HOUSE PAINTERS
RED HOUSE PAINTERS (1989-)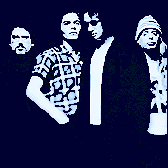 The Red House Painters were formed in Atlanta, USA with Mark Kozelek (singer), Anthony Koutos (drums), Jerry Vessel (bassist) and Gordon Mack (guitar). Kozelek was previously in a band called God Forbid. New Musical Express described the Red House Painters as "the most intensely sad and beautiful new band of 1992". They have developed a sound which is simple, yet subtle, almost ambient with a great emphasis on lyrical content. Influences include Cat Stevens and Neil Young. Via the intervention of America Music Club's Mark Eitzel, a tape of demos was passed onto 4AD Records who promptly signed the band in 1992.
Their first album was "Down Colourful Hill" under the 4AD label (Sept 1992) which contained a remixed set of six of their demo songs. In November of the same year, they played their first UK gig at London's Borderline Club with Earwig. Kozelek split from his girlfriend soon after the release of the first album and his 9 minutes 51 seconds long "Medicine Bottle" highlighted the tragic way in which he saw the world. He was addicted to drugs at the age of 10 and was admitted to a rehabilitation centre at 14. He became compared with other artists such as Nick Drake, Tim Buckley, Leonard Cohen and Van Morrison. He found interviews uncomfortable and disliked performing on stage. He was most happy being in the recording studio.
The "Roller coaster" album (1993) included the tracks "Strawberry Hill", "Mother" and "Katy Song". "The Bridge" was released later on in the same year and contained "Evil", a cover of Paul Simon's "I Am a Rock" and a cover of "The Star Spangled Banner". The song "Shock Me" was released as the title track of an EP which also featured "Sundays", "Holidays" and "Three-Legged Cat".
Their next album was "Ocean Beach" which included the tracks "Summer Dress", "San Geronimo", "Shadows" and "Drop". This was the last album under the 4AD label as the relationship between Kozelek and 4AD were deteriorating and Gordon Mack left soon after it's release. He was replaced by Phil Carney. Their next album "Songs For A Blue Guitar" contained several unusual covers, one by Paul McCartney and Wings' "Silly Love Songs" and extended guitar jams. It also contained the first Red House Painter's male-female vocal duet. It was released under Supreme Recordings (subsidiary of Island Records).
Essential Albums:
Click on album cover to buy.


Discography:
Down Colorful Hill (1992)
Red House Painters (I) (1993)
Red House Painters (II) (1993)
Ocean Beach (1995)
Songs For a Blue Guitar (1996)
Retrospective (1999)
Old Ramon (2001)