Home
|
Encylopaedia
|
Composers
| REED
Lou REED (1942-)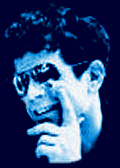 Lewis Allen Reed was born in Freeport, New York and became a highly influential musician and infiltrated his style into popular culture without ever becoming massive. He played in several bands while still at High school and made his recording debut with the Shades in 1957 with the song "So Blue". As a teenager he was extremely rebellious and his parents subjected him to electroshock therapy when he was seventeen years old.
At Syracuse University he studied with the poet Delmore Schwartz who encouraged his creativity and he also met Sterling Morrison. After graduating he worked as a contract songwriter/producer for Pickwick Records. While working here he met the Welsh classical musician John Cale. He still continued to write music and his songs from this era include "The Ostrich" in 1965 which prompted him to form the band the Primitives, which included Cale.
During the 1960s, Reed was the main integral member of the Velvet Underground which was formed in 1965 in New York. The members were Lou, John Cale, Sterling Morrison and Maureen "Mo" Tucker. Subjects touched upon by this band were often dark, brooding and heavily drug related. Many of the songs between 1965 - 1970 featured subject matter that Lou wrote while still at college and was unusual for pop music of that era.
Andy Warhol introduced Nico to the band and helped finance their first album "The Velvet Underground and Nico". He also gave them their banana logo on the front of their cover. Tracks from this album include "Heroin", "Venus in furs", "Waiting for the man", "All tomorrow's parties" and "Femme fatale". Nico soon left the band to pursue a solo career and a drug habit.
Their second album was "White light/white heat" (1967) which included the songs "Sister Ray", "The gift" and "Heard her call my name". John Cale also left the band soon afterwards and was replaced with Doug Yule. A third album "The Velvet Underground" was released in 1969 and included "After hours", "Candy says", "Jesus", "I'm set free" and "Pale blue eyes". Their last album was "Loaded" (1971) and was a much tamed down effort which included "Who loves the sun", "Sweet Jane" and "Rock and Roll". Lou had left the band by the time the album had been released.
Reed's songs were heavily influenced by R&B and his lyrics dealt with contemporary urban life. After quitting the Velvet Underground in 1970 he took two years off from music and went into seclusion at his parent's home in Long Island. In 1972, he met David Bowie and he released "Lou Reed". This album included the musicians Steve Howe and Rick Wakeman and attempted to be more light hearted than the Velvet's style of music.
David Bowie produced "Transformer" in 1972 which included the tracks "Make Up" and "Walk on the wild side". This song was concerned with transsexuality and the world of Andy Warhol. The song became a hit reaching the UK top ten.
Lou's next album was "Berlin" (1973) which was a difficult album containing bleak songs that challenged his fans. Next came the live "Rock n' Roll Animal" (1974) which was more commercially acceptable, followed by "Sally can't dance" (1974), "Metal machine music" (1975) which made much use of feedback, "Lou Reed live" (1975) and "Coney island baby" (1976). Other albums to follow were "Rock 'n' Roll Heart" (1976) on the Arista label, "Street Hassle" (1978), "Live - take no prisoners" (1978), "The Bells" (1979) and "Growing up in public" (1980).
Lou married Sylvia Morales and after settling in Jersey, started playing with Robert Quine and Fernando Suanders. Next came "The Blue mask" (1982) on RCA, "Legendary hearts" (1983), "New sensations" (1984), "Live in Italy" (1984), "Mistrial" (1986) and "New York" (1989). "Songs for Drella" (1990) was an epitaph for Andy Warhol in which he teamed up with John Cale after a reconciliation. "Magic and loss" (1992) and "Set the Twilight Reeling" (1996) followed.
In 1992, Lou Reed and John Cale got together and toured in Europe with "Songs for Drella" and in 1993, Lou Reed briefly teamed up with other members of the Velvet Underground and conducted a high profile tour. Sterling Morrison died in 1995 and Lou Reed announced that there would be no more Velvet Underground as a result.
Essential Albums:
Click on album cover to buy.


Discography:
Lou Reed (1972)
Transformer (1972)
Berlin (1973)
Rock & Roll Animal (live) (1974)
Sally Can't Dance (1974)
Lou Reed Live (1975)
Metal Machine Music (1975)
Coney Island Baby (1976)
Rock & Roll Heart (1976)
Street Hassle (1978)
Live: Take No Prisoners (1978)
The Bells (1979)
Rock & Roll Today (1980)
Growing Up In Public (1980)
The Blue Mask (1982)
Legendary Hearts (1983)
New Sensations (1984)
Live In Italy (1984)
Mistrial (1986)
New York (1989)
Songs For Drella (1990)
Magic and Loss (1992)
Set The Twilight Reeling (1996)
Live In Concert (1997)
Perfect Night: Live In London (1998)
Ecstacy (2000)