Home
|
Encylopaedia
|
Composers
| REICH
Steve REICH (1936-)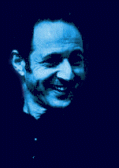 Steve Reich was born in New York on the 3rd October 1936. He is known as one of the major minimalist composers due to the steady rhythmic pulse found in much of his work along with others such as Terry Riley and La Monte Young. He is also credited with phasing, by which two tape loops, initially lined up in unison, gradually move out of phase with each other before coming back into sync. He spent a large proportion of his time experimenting with tape sampling.
He studied music at the Juilliard School between 1958-1961 and at Mills College, Oakland between 1962-1963. He studied composition under Luciano Berio and Darius Milhaud. While a student, he financially supported himself by playing drums and went on to drive a cab when he had graduated in 1963. Between 1964-1965, he worked at the San Francisco tape music centre before setting up his own electric studio in New York.
Reich's influences range from African and Asian music to classical and his works deal exclusively with very gradual changes in time. Works include "Pitch Charts" (1963) and the experimental film score "Plastic Haircut" (1963). This was followed with "Music" (1964) for three or more pianos which made use of tape loops and the phased piece "It's Gonna Rain" (1965) which was constructed out of a 13-second sample of a sermon by the minister Brother Walter. Reich also made use of phasing techniques in his "Come Out" piece (1966).
His next work was "Piano Phase" (1967) for two pianos featuring Paul Zukovsky. "My name Is" (1967) was written for three or more tape recorders, performers or audience members and "Pendulum Music" (1968) was written for microphones, loudspeakers, amplifiers or performers. Other work includes "Pulse Music" (1968-69) for instrument invented by composer, "Piano Store" (1969) for a store full of pianos and "Phase Patterns" (1970) for four electric organs. "Drumming" (1971) was inspired by a visit to Ghana and was written for four pairs of tuned bongos, three marimbas and three glockenspiels.
"Clapping Music" was written in 1972 and "Music For Eighteen Musicians" in 1976. His work was rarely recorded during his early days but his major pieces began to appear in albums during the 1980s. These include "Different Trains" (1988) from which The Orb sampled and "The Cave" (1994). The album "Reich Remixed" (1999) was put together by nine DJs including DJ Spooky and Tranquility Bass celebrating his work.
Essential Albums:
Click on album cover to buy.

Discography:
Drumming/Six Pianos: Music for Mallets Instruments (1974)
Music For A Large Ensemble (1980)
Octet/Music For a Large Ensemble/Violin Phase (1980)
Tehillim (1982)
The Desert Music (1985)
Sextet/Six Marimbas (1986)
Drumming (1987)
Phase Patterns/Pendulum Music/Piano Phase (1999)