Home
|
Encylopaedia
|
Composers
| RIMSKY-KORSAKOV
Nikolai RIMSKY-KORSAKOV (1844-1908)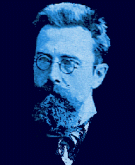 Rimsky-Korsakov was born into the Russian aristocracy and entered the navy in 1856, aged only 12. He was heavily influenced by the national music of Glinka early on in his life and he left the navy in 1865 to pursuse a career in music. He became involved with "The Five" along with Balakirev, Mussorgsky, Borodin and Cui. None of the group had any advanced musical education and they frowned upon technique as they considered it conflicted with freedom of expression. In 1871, even though he didn't know a great deal about compositional technique, he was appointed the position of professor of composition and orchestration at the St. Petersburg Conservatory. He studied the subject in private to obtain a better grasp of the subject.
After seeing the first Russian performance of Wagner's "Ring Cycle", Rimsky-Korsakov dedicated most of his remaining years to opera. His works include a "Spanish Caprice" (1887) using rhythms of Spain and "Sheherazade" (1888) which is probably his most famous piece using musical influences from the Middle East. He also wrote "The Maid of Pskov", "Snow Maiden" (1881) and "Sadko" (1896). His last opera was "The Golden Cockerel" (1907), written after his music was banned due to his open support of the revolutionaries. This opera was based on Pushkin's work which attacked authority and as this was banned the work was not performed until a year after his death. Many of his operas were concerned with magic and the supernatural.
He edited and published Borodin's "Prince Igor" opera and his text "Principles of Orchestration" was posthumously published in 1913. His pupils include Stravinski and Prokofiev. Some argue that it is thanks to Rimsky-Korsakov that Mussorgsky's work became popular.
Essential Albums:
Click on album cover to buy.