Home
|
Encylopaedia
|
Composers
| ROLLING STONES
The ROLLING STONES (1962-)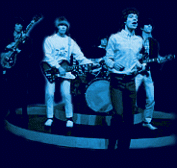 The Rolling Stones were named after Muddy Water's 1950 hit "Rollin' Stone". They have been going now for well over 37 years and have sold over 100 million copies of more than 30 albums. The band members included Brian Jones on rhythm guitar, Mick Jagger on vocals and co-songwriter with Keith Richards on guitar, Dick Taylor (later of the Pretty Things) and Ian Stewart on piano. Taylor left and Bill Wyman soon joined on bass guitar.
Their first gig was arranged by the musician Alexis Korner at the London's Marquee club on 21st July 1962. The line-up remained unsettled for several months before settling with Charlie Watts on drums in 1963.
Andrew Logg Oldham became their manager after seeing them perform at the Giorgio Gomelsky's Crawdaddy club in Richmond and helped the Rolling Stones become a wilder, raunchy and more offensive style band than the clean-cut Beatles. He managed to hussle them a Decca contract in 1963 and they had their first hit with Chuck Berry's "Come on" in September. Their early music reflected their blues orientation. Their second single, "I wanna be your man" was a gift from John Lennon and Paul McCartney. Other hits included "Not fade away" in March 1964, "Paint it black", "Under my thumb" and "Get off my cloud".
Stewart soon left the Rolling Stones and was down graded to roadie after being considered not raunchy or rock-n-roll enough.
| | |
| --- | --- |
| | In 1964, the newspapers asked the question "Would you let your daughter marry a Rolling Stone?". A number of drug scandals added to their bad boy reputation and such antics continued through much of their career. Keith Richards (when it was commented that he had had a lot of problems with drugs) is said to have replied with typical Stones' attitude "No, not with drugs, only with policemen". The same year saw the release of an EP and an album both called "The Rolling Stones". Their third single was "Not fade away". |
Their first American tour in June 1964 was not a success as America was not yet ready for them. After returning to the U.K., they released "It's all over now" which reached number 1 in the hit parade. The band toured around Britain to a response bordering on mass hysteria with many of the gigs being cancelled within minutes of the band appearing on stage.
By 1965, they had made four albums and nine hit singles. Their second attempt at conquering the U.S.A. proved fruitful as well as managing to disrupt the Ed Sullivan Show. On the 1st July 1965, the band stopped off at a service station in Stratford, following a gig and urinated against a wall as the toilets were out of order. The band members were ordered to pay ?3 each plus costs.
The Rolling Stones continue to tour although this is now largely a commercial exercise. They have not produced any new material of worth for some time and treat their concert performances as any other job - meeting only to rehearse and play.
Essential Albums:
Click on album cover to buy.


Discography:
The Rolling Stones (1964)
12 X 5 (1964)
The Rolling Stones Now! (1965)
Out of Our Heads (1965)
December's Children (1965)
Aftermath (1966)
Got Live If You Want It (1966)
Between The Buttons (1967)
Flowers (1967)
Their Satanic Majesties Request (1967)
Beggars Banquet (1968)
Let It Bleed (1969)
Get Yer Ya-Ya's Out (live) (1970)
Sticky Fingers (1971)
Exile on Main Street (1972)
Jamming With Edward (1972)
Goats Head Soup (1973)
It's Only Rock and Roll (1974)
Metamorphosis (1975)
Black & Blue (1976)
Love You Live (1977)
Some Girls (1978)
Emotional Rescue (1980)
Tattoo You (1981)
Still Life (live) (1982)
In Concert (live) (1982)
Undercover (1983)
Dirty Work (1986)
Steel Wheels (1989)
Flashpoint (live) (1991)
Voodoo Lounge (1994)
Stripped (live) (1995)
Rolling Stones Rock and Roll Circus (live) (1996)
Bridges To Babylon (1997)
No Security (live) (1998)