Home
|
Encylopaedia
|
Composers
| SANTANA
Carlos SANTANA (1947-)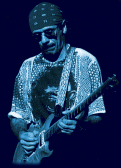 Carlos Santana is the man behind the afro-latin rock group Santana. He was born on July 20th, 1947 in Autlan de Navarro, Jalisco, Mexico. The original Santana line up was formed in 1966 in San Francisco and consisted of keyboard player and singer Gregg Rolie (b. June 17th, 1947), David Brown on bass (b. February 15th, 1947), Marcus Malone on percussion and Mike Carabello on conga (b. November 18th, 1947). Other members to follow include guitarist Neal Schon, Tom Coster, Armando Peraza, Raul Rekow, Graham Lear, Orestes Vilato and Coke Escovedo.
They gained the attention of promoter Bill Graham and their major breakthrough came at Woodstock festival in 1969 and their first album "Santana" was released in the same year under Columbia. The album hit the top 5 position and contained the singles "Jingo" and "Evil Ways". Livingston and Malone left Santana in 1969 and were replaced with Carabello and Michael Shrieve on drums. Jos? Chepito Areas was also added as a second percussionist.
Their following album was "Abraxas" (1970) which contained the singles "Black Magic Woman" and "Oye Como Va". This was followed with "Santana III" (1971) as a seven-piece band with the addition of Neal Schon. This album contained the singles "Everybody's Everything" and "No One To Depend On". Both albums reached no.1 positions in the album charts. "Caravanserai" was released in 1972 after a band reorganization and it highlighted a marked change towards a cool jazz style after Rolie and Schon left to form Journey. It reached no.5 in the album charts and was nominated for a Grammy Award for Best Pop Instrumental Performance With Vocal Colouring.
Another successful album followed with "Love Devotion Surrender" (1973) with John McLaughlin with the Mahavishnu Orchestra. It was during this period that Santana became a disciple of the guru Sri Chimnoy and adopted the name Devadip (meaning "the eye, the lamp, and the light of God"). Other albums included the live "Carlos Santana and Buddy Miles! Live!" (1972) and "Welcome" (1973) which reached the top 20 in the album charts. "Borboletta" was released in 1974 which also reached the top 20, followed with "Illuminations" (1974) in which Santana collaborated with Alice Coltrane. "Santana's Greatest Hits" was released in 1974 which went double platinum and the live "Lotus" (1975) was also released before Santana moved back towards Latin Rock with the release of "Amigos" (1977) produced by David Rubinson. It reached no.10 in the album charts.
Their next release was "Festival" (1977) which reached the top 40 and their following album "Moonflower" (1977) contained the hit single cover of "She's Not There". "Inner Secrets" was released in 1978, produced by Dennis Lambert and Brian Potter. This was followed by Marathon" (1979) and Santana's solo album "Oneness, Silver Dreams, Golden Reality" (1979). In 1980, Santana collaborated with Herbie Hancock in "The Swing of Delight" and with Wayne Shorter in "Zebop!" (1981). In 1983, Santana released a solo album "Havana Moon" with guests Willie Nelson and Booker T. Jones. "Beyond Appearances" was released in 1985 and in the same year Santana toured with Bob Dylan, before releasing "La Bamba" in 1986.
Other albums to follow were "Freedom" (1987) with Buddy Miles, "Blues for Salvador" (1987), "Persuasion" (1989) under Thunderbolt and Santana also contributed to the title track of John Lee Hooker's album "The Healer" during the same year. In 1990, "Spirits Dancing in the Flesh" was released and was followed by "Milagro" in 1992 under Polydor. During the summer of 1993 the band toured South America and the resultant "Sacred Fire: Live in South America" was released.
Santana's own record company, Guts and Grace began releasing live material from various artists including Jimi Hendrix, Bob Marley and Marvin Gaye. In 1994 Santana also appeared at Woodstock II and released "Santana Brothers" with the Santana Brothers. 1995 saw the introduction of Tony Lindsay as vocalist.
Carlos Santana has continued to release successful material over five decades and has inspired and influenced many artists. In 1996 he received the Billboard lifetime achievement award and his "Supernatural" album in 1999 sold more than 10 million copies and swept the Grammys.
Essential Albums:
Click on album cover to buy.


Discography:
Santana (1969)
Abraxas (1970)
Santana III (1971)
Carlos Santana & Buddy Miles! Live! (1972)
Caravanserai (1972)
Love, Devotion and Surrender (1972)
Welcome (1973)
Lotus (live) (1974)
Illuminations (1974)
Borboletta (1974)
Amigos (1976)
Festival (1977)
Moonflower (1977)
Inner Secrets (1978)
Oneness: Silver Dreams Golden Realities (1979)
Marathon (1979)
The Swing of Delight (1980)
Zebop! (1981)
Shango (1982)
Havana Moon (1983)
Beyond Appearances (1985)
Live (1985)
Freedom (1987)
Blues For Salvador (1987)
Spirits Dancing in the Flesh (1990)
Milagro (1992)
Sacred Fire: Santana Live In South America (1993)
Santana Brothers (1994)
Brothers (1995)
Live at the Fillmore 1968 (1997)
Supernatural (1999)
Centre Stage: Live (2000)
Jingo Manic (2000)