Home
|
Encylopaedia
|
Composers
| BELLEVILLE THREE
The BELLEVILLE THREE (1983-)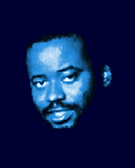 The Belleville Three were Juan Atkins (b. 12th September 1962), Derrick May (b. 6th April 1963) and Kevin Saunderson (b. 5th September 1964). Atkins was the son of a Detroit concert promoter and he had previously met May at Beleville High school where they traded mix-tapes with each other. The trio soon became a DJ collective, calling themselves Deep Space Soundworks. Atkins had also helped May out previously with two singles as Rhythim Is Rhythim. A fourth member in Eddie Fowlkes was added afterwards. They even formed a club in Detroit known as the Music Institute. May and Atkins worked with a local DJ called the Electrifyin' Mojo and Atkins had also formed a band called Cybotron with Rick Davis (who later changed his name to 3070). Guitarist John Howesley soon became the third member of Cybotron.
Atkins, May and Saunderson released work under their own Deep Space Label, before being signed up to the California label Fantasy with whom they released their "Clear" album in 1981. Cybotron's first single release was "Alloys of your Mind" (1981) followed by "Cosmic Cars" (1982). Musical influences include Kraftwerk, Gary Numan and the B52s.
After the breakup of Cybotron in 1983, Atkins set up his own Metroplex label in 1985 and was soon joined by Derrick May and Kevin Saunderson. Their first single was "No UFO's" followed by "Night Drive", "Interference" and "The Chase". It wasn't long before each member of the Belleville Three were running their own record label. Derrick May ran his Transmat label and released tracks such as "Nude Photo", "Strings of Life" (1987), "Kaos" and "It is what it is" in the guise of Rhythim Is Rhythim. Saunderson formed his KMS Records in 1986 and released singles such as "Triangle of Love" by Kreem, "The Sound" and "Bounce Your Body to the Box" by Reece and Santonio.
The trio toured Britain in 1988 and began to spread their influence to the likes of 808 State, A Guy Called Gerald, LFO and Black Dog.
Kevin Saunderson released a fair amount of material under different aliases, such as Reese, Reese and Santonio, Inner City, Keynotes, Tronik House and E-Dancer. Atkins also released music under such names as Model 500 and Infiniti and continued to Dj. Of the three, Saunderson achieved the greatest commercial success and also had a style of bass sound named after him - The Reece Bass. Material released under his Inner City productions hit the British top 40 eight times and achieved four no.1 club hits on the American dance charts. He worked with vocalist Paris Grey in 1988 on the track "Big Fun" which became a top 10 hit in Britain and the follow up "Good Life" also reached the top 10.
May didn't release much during the 1990s, preferring to Dj. He worked alongside Steve Hillage and made Transmat into a well respected techno label.
Discography (for Juan Atkins):
Magic Tracks: Deep Detroit, Vol.2 (1993)
Wax Trax! Mastermix, Vol.1 (1998)
MM (1999)
Magic Juan Atkins (1999)
Legends (2001)
Discography (for Derrick May):
Mayday Mix (1997)
Mix Up, Vol.5 (1997)
Innovator (1997)
Discography (for Kevin Saunderson):
Kevin Saunderson Presents "The Party of the Year" (1995)
Mixmag Live!, Vol.5 (1995)
Faces & Phases (1997)
X-Mix: Transmission from Deep Space Radio (1998)