Home
|
Encylopaedia
|
Composers
| SCHOENBERG
Arnold SCHOENBERG (1874-1951)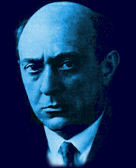 Arnold Schoenberg was born on the 13th September, 1874 in Vienna. He played the cello, began violin lessons when he was 8 and began composition at an early age. His family could not afford for him to study composition, so on leaving school Schoenberg went to work in a bank. He was mainly self taught in musical theory. He taught himself through books, practice and meeting other composers such as Alexander von Zemlinsky (1871-1942). They became lifelong friends and Schoenberg was initially heavily influenced by Zemlinsky.
Schoenberg wrote prolifically during the 1890s with his piano works, songs, chamber works and his symphonic poem "Verkl?rte Nacht" (1899). This work caused a scandal however and the Composers' Union in Vienna declined to perform it. By this time he had left the bank and was making a living by conducting choirs, orchestrating operettas, teaching and scoring other composers' works. In 1901 he married Zemlinsky's sister Mathilde and they moved to Berlin the following December. His choral work "Gurrelieder" was written in 1901. He returned to Vienna in 1903 where he gave private composition lessons. His pupils included Alan Berg (1885-1935) and Anton Webern (1883-1945). He wrote his first Chamber symphony in 1906.
Along with his students Berg and Webern, Schoenberg broke down the whole concept of key along with major-minor tonality. He preferred atonal works and invented the 12-tone system in 1923. Atonality produces unusual harmony, often dissonant, and consciously avoids a sense of key. They considered dissonances to be worthy musical elements in their own right. The 12-tone system was a system of composition where all the notes of the chromatic scale were treated as being exactly equal and none were singled out favourably. The feeling of tonality or the presence of key was removed from the music. This was achieved by basing his composition on a theme or series of twelve notes, all of them different, which made up the notes of the chromatic scale placed in a certain order. This theme could then be subjected to various treatments in the music, for example played upside-down and/or backwards. This style of music was revolutionary in sound.
For Schoenberg, his 12-tone serialism made it possible to compose in large instrumental forms. Such an example of atonility was Schoenberg's chamber work for voice and five instruments "Pierrot Lunaire" (1912) portraying the soul lost and his "Erwartung" (1909). His song cycle "Das Buch der h?ngenden G?rten" (1908) met with hostility by some critics and his "Die Jakobsleiter" (1917-1922) was never completed as he spent a year in the army. His "Suite for Piano., Op.25" (1923) was his first piece of work wholly written in the 12-tone system. He also wrote a third string quartet designed to show how the serial method could produce results not far removed from traditional composition.
In 1926 he moved to Berlin to take a master class in composition at the Prussian Academy of Arts and worked in Germany until Nazi harrassment drove him to leave in 1933. He was brought up an orthodox jew but did not practice his religion as an adult. Work during this period consisted of his "Moses und Aron" opera (1932). He first went to France with his second wife, Gertrud Kolisch (his first wife died in 1923) and then onto America in 1934 where he settled in California. He taught at the University of California between 1936-1944 and taught the likes of John Cage. He became an American citizen from 1941 and his work from this period includes "Violin Concerto" (1936), "4th String Quartet" (1936), "Piano Concerto" (1942), "String Trio" (1946) and "Phantasy for Violin and Piano" (1949).
Schoenberg did return to tonal composition for works intended for his student performers, examples being "Suite for String Orchestra" and "Theme and Variations for Concert Band". He also wrote "Kol nidre" (1938) for rabbi, chorus and orchestra but most of his religious work of this period were left unfinished. He died in Los Angeles in 1951.