Home
|
Encylopaedia
|
Composers
| SCHUBERT
Franz SCHUBERT (1797-1828)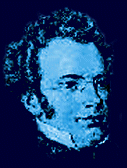 Franz Peter Schubert was an Austrian composer and teacher, born in Vienna who was often compared with Beethoven but was more melodic. He cultivated the classical forms of Beethoven in his piano sonatas and symphonies, quartets and choral works. He is also known for slowing down the rhythm and helping music on it's way towards Romanticism.
Schubert's father, a school teacher, taught him the violin and his elder brother taught him the piano. At the age of 11 he was admitted to the imperial chapel as a boy soprano and in 1810 he studied with Antonio Salieri who had also taught Beethoven. In 1813 he wrote his first symphony and he wrote "Gretchen at the Spinning-Wheel" song when he was 17. At 18 he became a schoolmaster but continued to compose prolifically and in one year composed over 150 songs including "The Erlking" depicting a father carrying his feverish child through the forest on horseback trying to ward off the evil spirit, the Erlking who takes the child's spirit.
Schubert had greater success with his songs than with his larger scale works which were largely ignored including his theatre music and sonatas. His songs were regularly performed at friends' houses and some of his more well known ones include "The Trout" and "The Beautiful Maid of the Mill". His friends included poets, singers and painters and they helped get some of Schubert's songs published. His operas are also largely forgotten, his first one being "Des Teufels Lustschloss" written in 1814. Others include "Alfonso und Estrella" (1821) which was never performed until after his death and "Fierabras" (1823).
Schubert was not a public performer as he was not technically good at the piano. In 1817, he abandoned teaching and lived in Vienna where he met Michael Vogl who was an opera singer and who later went on to become the main interpreter of Schubert's songs. In 1818 he took up a post as music master to the Count Johann Esterh?zy family.
He wrote many symphonies, his famous eighth "The Unfinished" (1822) and the ninth "the Great C Major" (1825) are the most well known. He never heard his "Unfinished Symphony" as it was not given it's first hearing until after his death in 1865. He began to sketch a third movement for it but never progressed any further. He never got to hear his "Great C Major" either as this work was in the keep of his brother until 1837 when Robert Schumann found it. It's first performance was conducted by Mendelssohn two years later.
He is also remembered mostly for his chamber music, dance tunes and songs (of which he wrote well over 600) and he also wrote many pieces for the solo piano. In 1815, he composed 144 songs, including eight in one day. He wrote his "Winterreise" songs in 1827 and during the same year he was a torch bearer at Beethoven's funeral. He was a great lyricist who had influence in all musical forms, especially on Schumann, Brahms and Wolf. He gained much inspiration himself from poetry.
Some sources state that he died of typhoid fever and others mention that he contracted syphilis as he was known to frequent prostitutes. He died heavily in debt on the 19th November 1828. He was buried close to the grave of Beethoven.
Essential Albums:
Click on album cover to buy.