Home
|
Encylopaedia
|
Composers
| SHAMEN
The SHAMEN (1986-)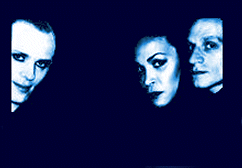 The Shamen first started out in 1986 in Aberdeen as a psychedelic rock band with Colin Angus as singer/guitarist, Peter Stephenson, Keith McKenzie and Derek McKenzie. Their debut album "Drop" (1987) was released before Colin Angus became fascinated with the underground hip-hop movement. Derek McKenzie however, did not share his passion and left, soon to be replaced with William Sinnot. Angus taught himself to program and to use samplers and drum machines. With Sinnot, he threw mini-raves under the name Synergy (later Progeny).
In 1988 they presented their re-vamped sound to the world in the form of live acts however, their sexually explicit slide shows provoked anger from feminists and politicians. Their "Jesus loves Amerika" single also created a stir in certain religious groups.
Other albums include "In Gorbachev We Trust" (1989). By now they were beginning to become popular in America and they began to add rappers in their live shows. This was followed with "Phorward" (1989), "En-Tact" (1990) which was their first breakthrough album and included the track "Human NRG" and "Progeny" (1991). In 1990, they released the "Pro Gen" single and they also had a top 20 hit with "Re:Evolution", using Terrence McKenna samples.
By 1990, The Shamen had become quite an influential group with Synergy tours featuring various rappers. Disaster struck however, in May 23rd 1990, when Will Sinnot drowned off the coast of Gomera (one of the Canary Islands). The Shamen released "Move any Mountain" as a fitting tribute to him, which happened to reach the UK top 10 and the US top 40. The Shamen obtained five top 20 UK hits between 1991 and 1992. The next album releases were "Different Drum" (1994) which didn't do too well, "Axis Mutatis" (1995), "Hempton Manor" (1996) and "UV" (1998).
Essential Albums:
Click on album cover to buy.

Discography:
Drop (1987)
Strange Day Dreams (1988)
What's Going Down? (1988)
In Gorbachev We Trust (1989)
En-Tact (1990)
Boss Drum (1992)
Heal (The Seperation) (1995)
Axis Mutatis (1995)
Hempton Manor (1996)
UV (1998)