Home
|
Encylopaedia
|
Composers
| SIBELIUS
Jean SIBELIUS (1865-1957)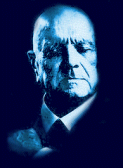 Sibelius was a Scandinavian composer born in H?meenlinna who grew up surrounded by the legends of his country. He was originally named Johan Julian Christian but changed his name and adopted Jean Sibelius from an uncle. He showed a talent for the violin at a very early age and started composing as a child and learned the piano. He studied law at Helsinki University in 1885 but also took music courses at the Conservatory, finally quitting law in 1886. He studied composition with Martin Wegelius and also studied in Berlin between 1889-1890 and in Vienna between 1890-1891. He taught violin and music theory at the Helsinki Musical Institute from 1892 -97.
He is famous for his tone poems such as "Kullervo" (1892) which was based on the epic "Kalevala" and contained several movements and voices. It was very successful at it's premiere at Helsinki. Between 1893 - 99 he wrote the four Kalevala "Legends" and in 1892 the "En Saga". In 1897 the Finnish state gave Sibelius a state pension in order that he could concentrate on composing. Another tone poem was written in 1899 "Finlandia". Many of his tone or symphonic poems were based around Finnish myths.
Sibelius was also interested in the theatre and the symphony in which he excelled. His symphonies (of which there were 7) have been described as being among the highlights of early 20th century music. His first symphony in 1898 contained a beautiful Slavonic romantic melody and was heavily influenced by Tchaikovsky. His second symphony was written in 1901 and while still classical, contained hints of Sibelius's originality. Others followed with his "Third Symphony" in C major (1907). His style included the use of individual short themes and building them up and he had a fondness for ostinati. Much of his music contained long atmospheric movements. Other works include the "Violin Concerto" in D minor (1903) and the string quartet "Voces Intimae" (1908).
In 1907 he met Mahler in Helsinki where they disagreed on the subject of symphonies. His "Fourth Symphony" (1911) was the antithesis of the Mahlerian symphony being economical in the scoring. It was also extremely dissonant making much use of the tritone intervals. In 1914 he took his new symphonic poem " The Oceanides" to America and in 1915 he wrote his fifth symphony in E flat major. This is among his most popular works. In 1923 he composed his sixth symphony, "seventh symphony" in C (1924) followed and another tone poem "Tapiola" was written in 1925. Other work that followed included incidental score music for Shakespeare's "The Tempest" (1925).
Sibelius suffered with alcoholism during his life time and he later found composition a problem, his eighth symphony in 1929 was never published and was said to have been destroyed. He did not compose any music during the last thirty years of his life. In spite of this however, he was still regarded as a great figure in contemporary music by many other composers. He died at home near Helsinki in 1957.
Essential Albums:
Click on album cover to buy.