Home
|
Encylopaedia
|
Composers
| SIMON
Paul SIMON (1941-)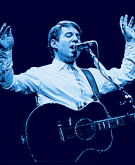 Paul Simon was born on the 13th October 1941 in Newark, New Jersey, US. He met Art Garfunkel at school and together they formed Tom and Jerry. Their first track release was "Hey Schoolgirl". Simon went on play with another group called Tico and The Triumphs and as Jerry Landis before joining with Garfunkel again later on. They were signed to Columbia Records and released their "Wednesday Morning 3 A.M." album (1964). Simon was also signed as a solo artist during this period by CBS and he released his debut album "The Paul Simon Songbook" in 1965.
The song "The Sound of Silence" was taken from their first album and released nearly a year after the release of the album. It reached no.1. Simon and Garfunkel split in 1970 after the release of their "Bridge Over Troubled Water" album (1970).
Essential Albums:
Click on album cover to buy.

Discography:
The Paul Simon Songbook (1965)
Paul Simon (1972)
There Goes Rhymin' Simon (1973)
Live Rhymin' (1974)
Still Crazy After All These Years (1975)
One Trick Pony (1980)
Hearts and Bones (1983)
Graceland (1986)
Rhythm of the Saints (1990)
Paul Simon's Concert in the Park (live) (1991)
Songs From the Capeman (1997)
You're The One (2000)