Home
|
Encylopaedia
|
Composers
| BELOVED
The BELOVED (1985-1996)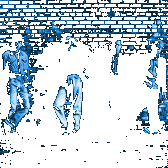 The Beloved was formed as a dance group in Cambridge in 1985 and included vocalist Jon Marsh who was heavily influenced by Shoom and Spectrum, guitarist Steve Waddington, Tim Havard and Guy Gousden. Their first single was released in 1986 "A Hundred Words", followed by the "Happy Now" EP, the double A-sided single "Surprise me"/"Forever Dancing" and the 1987 album compilation "Where it is". Gousden and Havard left in 1987.
Other Albums include "Happiness" (1990) and "Blissed Out" (1990). Their first major hit was "The Sun Rising" using vocals sampled from "A Feather on The Breath of God: Sequences and Hymns" by the Abbess Hildegard of Bingen. Their follow up single was "Hello". "Conscience" was released in 1993 before Waddington left and was replaced by Marsh's wife Helena. The Beloved as a duo became more pop and mainstream in style. In 1996 they released "X" followed by a compilation album "Single File".
Essential Albums:
Click on album cover to buy.

Discography:
Where It Is (1988)
Happiness (1990)
Blissed Out (1990)
Conscience (1993)
The Beloved (1995)
X (1996)