Home
|
Encylopaedia
|
Composers
| SPIRAL TRIBE
SPIRAL TRIBE (1980's-)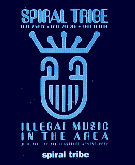 Spiral Tribe were at the forefront of alternative culture during the height of their reign. They were a collective of musicians who used to hold free parties and raves in Great Britain and in Europe.(They are not as active as they used to be.) They worked alongside other collectives such as DIY and these collectives became well known for their sound-systems and DJ acts and were extremely popular during the height of the rave culture in the late 1980s and early 1990s. Unfortunately the attempt to hold such events are now illegal in the UK and the police have the power under sections 63-65 of the Criminal Justice and Public Order Act 1994 to either stop such an event or to prevent it from continuing. Clause 24 states no repetitive beats. An entertainment licence is needed before any musical event is allowed to be held.
Spiral Tribe came to prominence by staging a huge outdoor rave at Castlemorten. Single releases include "Breach of the Peace" (Aug 1992) and "Forward the Revolution" (Nov 1992). They had assistance from Jazz Summers (former manager of Wham! and Yazz) and their debut album "Tecno Terra" (1993) was recorded during committal proceedings at Malvern Magistrates Court as a result of Castlemorten. They were part of the Free Festival Movement and it wasn't long before each of the main members had personal injunctions against them in most parts of the UK. They headed to Europe in 1993, where legislation against travelling musicians is more relaxed.
Free parties are not a new idea. In fact, before Spiral Tribe events, the Stonehenge People's Free Festival founded by Wally Hope took place between 1973-1984 and in that last year, around 30,000 to 50,000 people attended. On June 1st 1985, Wiltshire and Hampshire police blocked and attacked a convoy of vehicles and arrested over 500 men and women with children and destroyed property. This event became the famous "Battle of the Beanfield" sung about by the Levellers. 1986 and 1988 saw trouble and 1989 saw the beginning of the enforced exclusion zone around Stonehenge.
Mickey Mann (producer for bands such as The Shamen) formed his own group called The Pressure of Speech in 1993 with DJ Stika (a London based DJ with Spiral Tribe). Albums released by Spiral Tribe include "Sound of Teknival" (1996).
Discography:
Tecno Terra (1993)
Sound of Teknival (1996)