Home
|
Encylopaedia
|
Composers
| STRAUSS
Richard STRAUSS (1864-1949)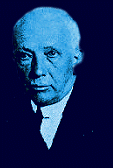 Richard Strauss was a German neo-romantic composer, conductor and pianist who became the leading successor or heir to Wagner as the Emperor of German music. He was born in Munich on the 11th June 1864 to a musical family where his father was a musician of the Court Orchestra. He began composition early in his life when he was six and he had music lessons from his father's friends from the orchestra. He never attended a conservatory though he did spend two terms at Munich University before he started to compose full time. He had written many musical pieces before leaving university.
He wrote his first symphony and string quartet at the age of sixteen. Both were performed in Munich in 1881. He was also a professional conductor by the age of twenty one. During this period he was more influenced by the music of Mendelssohn and Brahms. In 1885 he became the conductor of the Meiningen orchestra and became internationally recognised as a composer. Between 1886-89 he became conductor of the Munich Court opera. During this period he began to become influenced by Wagner and Liszt. Symphonies and quartetes were replaced with symphonic poems as heard in his "From Italy" (1886).
Strauss became well known for his symphonic poems, songs and later on for his operas. His symphonic poems were performed all over Europe and the United States. Examples of his work include "Don Juan" (1888) which established Strauss as the most important young composer in Germany, "Death and Transfiguration" (1889), "Till Eulenspiegel" (1895) and his tone poem "Also sprach Zarathustra" (1896) (whose opening music was later to be used in Stanley Kubrick's sci-fi film 2001). His tone poems had a direct effect on other composers such as Bart?k, Schonberg, and Syzmanowksi with their inspired orchestration and dynamism.
The years 1895-1898 were a prolific period. He also wrote "Macbeth" (1888), "Don Quixote" (1897), "A Hero's life" (1898), "Symphonia Domestica" (1903) and "Alpine Symphony" (1915). In 1894 Strauss married Pauline de Ahna and in 1898 he became conductor of the Royal Court Opera in Berlin. He now turned more towards opera composition.
His operas total to over forty and include "Salome" (1905) which caused a scandal when it was performed in Dresden. It was based on Wilde's play on the biblical story of John the Baptist at the court of Herod. His "Elektra" (1908) was based on Hugo von Hofmannsthal's drama on the hysteria and vengeance of Electra and he seemed destined to break ties with tonality altogether in this work. His first opera "Guntram" (1894) was not a success however. Strauss began a collaboration with Hugo von Hofmannsthal in 1908 and together they wrote six operas until Hofmannsthal's death in 1929 including "Ariadne auf Naxos" (1912), "Die Frau ohne Schatten" (1919) meaning "The Woman without a shadow", "Die agyptische Helena" and "Arabella". The most well known opera however, must be "Der Rosenkavalier" in 1910 meaning "The Cavalier of the Rose".
Other works include "Intermezzo" (1924) and his last opera "Capriccio" (1942). He was 78 years old when it was first performed in Munich in 1942 at the turning point in World War II. Strauss and Mahler had different approaches to music form in their compositions of songs. It is difficult to compare them to each other. He remained in Germany throughout his retirement and wrote a few pieces including a second horn concerto (1942), two other concertos for wind instruments and "Metamorphosen" (1945). He died at his home in Garmish in September 1949.
Essential Albums:
Click on album cover to buy.