Home
|
Encylopaedia
|
Composers
| STRAVINSKY
Igor STRAVINSKY (1882-1971)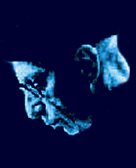 Igor Stravinsky was a Russian composer born in Oranienbaumon (now Lomonosov) on the 17th June 1882. He became one of the key figures of twentieth century music along with Schoenberg. He studied law at St. Petersburg University, however he changed his career from law to music as a result of a meeting with Rimsky-Korsakov. He studied with him between 1902-1908 when Rimsky-Korsakov died and his early work heavily reflects the influence of Rimsky-Korsakov. In 1906 he married Katerina Nossenko. His early orchestral pieces "Fireworks" (1908) and "Scherzo Fantastique" (1907) were also influenced by Debussy. They were heard by the impresario Diaghilev (creator of the ballet Ruse) when they were performed in St. Petersburg and he commissioned Stravinsky to compose for him for a ballet season in Paris in 1909.
His first commission was to orchestrate some pieces by Grieg and Chopin for the ballet season. This also led to other work and a long association with the Ballet Russes. Out of the whole of his work, he is probably most well known for his ballets for whom he worked with Diaghilev in Paris. Diaghilev regularly organised Russian music seasons in Paris and Berlin. His first ballet was "The Firebird" (1910) which went musically beyond anything that the Five composed and it's success made Stravinsky world famous.
His next ballets were "Petrushka" (1911) which contained Russian peasant-style dances and mime sequences. He also wrote the "The Rite of Spring" (1910) (Le Sacre du printemps) scored for very large orchestra. He wrote this ballet after he had a dream concerning a pagan rite where a young maiden danced herself to death while being watched by a circle of wise elders. The work is concerned with the spring festivities in Pagan Russia ending with a sacrifice of a virgin. "The Rite of Spring" caused an uproar and scandal at its first performance on the 29th May 1913 due to its content. It is reputed that the dancers could not hear the orchestra due to the noise from the audience. This must be the single, most famous score of the century as a new level of dissonance was reached and any sense of a triadic tonic relinquished.
By now, Stravinsky was regarded as the leader of the music avant-garde. World War I caused him to move to Switzerland with his wife and children and difficult times were also ahead with the Russian Revolution of 1917 which prevented him from returning to Russia. His property was confiscated and the Diaghilev company faced financial difficulties. He set up a small touring company presenting small scale productions and during this period he began to be interested in Russian folk rhythms and American Jazz. Works composed around this time include "The Soldier's Tale" (1918), the ballet "Les Noces" (the wedding) (1914) which was complete in 1917 but took Stravinsky another 6 years to find the right orchestration, and the short comic opera "Mavra" (1921). He wrote the ballet "Pulcinella" (1919) for which Picasso designed the stage set.
In 1920, Stravinsky left Switzerland and settled in France. In 1921 he conducted his first European tour with the Ballets Russes and in 1925 he toured America for the first time as conductor and pianist. From the 1920's onwards, he abandoned the Russian nationalistic style of music for a neo-classical flavour and adopted the forms of the 18th century. Such a change can be heard in his works such as his piano concerto and piano sonata. His ballet "Apollo" (1928) was influenced by the French Baroque era. In 1926 he rejoined the Russian Orthodox church and wrote his "Symphony of Psalms" (1930) for choir and orchestra. His opera-oratorio "Oedipus rex" (1927) based on a play by Jean Cocteau was the last of his works written for Diaghilev.
Stravinsky took French citizenship in 1934 and carried out his second American tour in 1935. He moved to America in 1939 due to the outbreak of World War II and he settled in Hollywood. His later works were much more modernistic in approach and some were based on twelve-note techniques. His rhythms were often complex and asymmetric. His "Octet for Wind Instruments" was dedicated to Vera Sudeikina, whom he had met back in 1921 and married in 1940, a year after his first wife's death. He also became involved in various film projects though nothing materialized. He became an American citizen in 1945. During this period, Stravinsky made new versions of many of his works, thus re-establishing his claim to copyright.
His other works includes symphonies such as his "Symphony in C" (1940) and his "Symphony in Three Movements" (1945), choral works, the opera "The Rake's progress" (1951), a violin concerto, the ballet "Orpheus" (1947) and the instrumental concerto "Dumbarton Oaks" (1937). When he was 70 he developed an interest in medieval and renaissance music. He also acquainted himself with the music of Schoenberg, Berg and Webern through his friendship with the American conductor Robert Craft and after Schoenberg's death he felt able to adopt serialism, though his music never lost its unmistakable voice. Good examples of this can be found in "Canticum Sacrum" (1956) and the ballet "Agon" (1953). His final works included a sequence of epitaphs for Dylan Thomas, T.S. Eliot and Aldous Huxley. His last memorial was to himself "Requiem Canticles" (1966) which was sung at his funeral. Much of Stravinsky's work was recorded for posterity.
Essential Albums:
Click on album cover to buy.