Home
|
Encylopaedia
|
Composers
| TANGERINE DREAM
TANGERINE DREAM (1967-)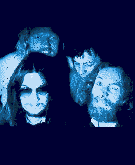 Tangerine Dream was formed in Berlin back in 1967. Their style was initially influenced by Pink Floyd but they soon relaxed into playing ambient synth music using the Moog synthesizer and the mellotron. They experimented heavily with electronics and mixed the sound with guitars, lutes and drums. Different decades saw them experimenting with different styles, from the experimental aproach during the 60s, through ambient and trance music during the 70s with the late 80s and 90s seeing them switch to more of dance style.
The initial line up included gutiarist Edgar Froese (b.1944) who was a friend of Salvador Dali and had previously organized multi-media events for him before playing in a band called the Ones. Froese has been the only original member to stay continuosly in Tangerine Dream so far. Other original members included Hertenberg on bass, Hapshash on drums and Vober Hombach on flute. They initially played around Berlin at various student events. This lineup lasted for 2 years before they went their seperate ways and Klaus Schulze (drums) and Conrad Schnitzler (wind player) joined and formed a trio.
Their first album was "Electronic Meditation" (1970) which was not originally intended for release by Ohr Records. Schulze soon left the band afterwards to join Ash Ra Tempel. He was replaced with Chris Franke (drums) which resulted in Schnitzler also leaving soon afterwards to form Cluster, who was then replaced with Peter Baumann (organist). This new line up then released such albums as "Alpha Centurin" (1971), "Zeit" (1972), and "Atem" (1973) all under the Polydor label and all making much use of synthesizers.
They were then signed to Virgin and released "Phaedra" (1973) using only synths ans sequencers which reached the top 10 in the UK. "Rubycon" was released in 1975 and the live "Ricochet" album was released following a season of gigs.
In 1977 they recorded "The Sorcerer" sound track for the Exorcist film by William Friedkin. In the same year, Baumann left to pursue a solo career and was replaced with Steve Jolliffe and Klaus Krieger (from Iggy Pop's band - the Stooges). The next album was "Cyclone" (1978) which unfortunately contained heavy rock influences and included vocals. It didn't go down very well with some critics. Jolliffe soon left the band and the next album "Force Majeure" (1979) returned back to Ambient/Psychedelic.
In 1980 they played two concerts in East Berlin which resulted in the album "Pergamon" (1986). Other albums were released, following the addition of a young sampling expert by the name of Johannes Schmoelling such as "Exit" (1981) and the live album "Poland - the Warsaw Concert" (1984). Schmoelling left in 1984. Other film music included "The Thief" (1981) and "The Keep" (1983); both Michael Mann films. Tangerine Dream worked on more than 30 film scores during the 1980s.
Essential Albums:
Click on album cover to buy.


Discography:
Electronic Meditation (1970)
Alpha Centauri (1971)
Zeit (1972)
Atem (1973)
Phaedra (1974)
Rubycom (1975)
Ricochet (live) (1975)
Stratosfear (1976)
Sorcerer (1977)
Cyclone (1978)
Force Majeure (1979)
Tangram (1980)
Thief (1981)
Exit (1981)
Die Melodie aus Dem Gleichnamigen TATORT (1982)
White Eagle (1982)
Logos (live) (1982)
Hyperborea (1983)
Poland (extracts) (live) (1984)
Warsaw in the Sun (1984)
Firestarter (1984)
Poland (live) (1984)
Flashpoint (1984)
Streethawk (1985)
Le Parc (1985)
Legend (1985)
Pergamon (live) (1986)
Heart breakers (1986)
Desert Dream (1986)
Underwater Sunlight (1986)
Green Desert (1986)
Tyger (1987)
Three O'Clock High (1987)
Shy People (1987)
Deadly Care (1987)
Canyon Dreams (1987)
Livemiles (1988)
Marakesh (1988)
Optical Race (1988)
Miracle Mile (1989)
Lily on the Beach (1989)
Destination Berlin (1989)
Melrose (1990)
Wavelength (1990)
Near Dark (1990)
From Dawn Til Dusk (1991)
Rockoon (1992)
The Park is Mine (1992)
Rumpelstiltskin (1993)
220 Volt Live (1993)
Catch Me If You Can (1994)
Turn Of The Tides (1994)
The Dream Mixes (1995)
Tyranny of Beauty (1995)
Book of Dreams (1996)
Goblin's Club (1996)
Zoning (1996)
Tournado (1997)
Oasis (1997)
Ambient Monkeys (1998)
Transsiberia (1999)
Sohoman (1999)
Dream Encores (1999)
Quinoa (1999)
Mars Polaris (1999)
Architecture in Motion (1999)
Great Wall of China (2000)
Live Miles (2000)
Soundmill Navigator (live) (2000)
Antiques Dreams (2000)
Seven Letters From Tibet (2000)
Mojave (2001)