Home
|
Encylopaedia
|
Composers
| TRICKY
TRICKY (1964-)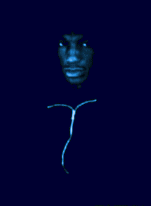 Tricky was born in 1964 in Bristol, UK and began his musical career during the late 1980s as a member of an informal crew of MCs, DJs and singers based in Bristol known as The Wild Bunch (later to become Massive Attack). He contributed guest raps to the tracks "Daydreaming" and "Five Man Army" on Massive Attack's 1991 "Blue Lines". He also worked on two tracks for their follow up "Protection" in 1994 before moving to London to pursue a solo career.
In late 1993, he released his "Aftermath" single with Mark Stewart and he employed school girl Martine to provide vocals. She was only 15 when she started recording for Tricky under the Naive label. In 1994 he signed a contract with 4th and Broadway which also allowed him to release material under different names. "Ponerosa" and "Overcome" were released in 1994. His "Maxinquaye" album was released in 1995 to critical acclaim, reaching the UK charts at no.2 and his style was given the term trip-hop. It contained the tracks "Hell is Round the Corner" and "Feed Me". Other projects included a collaboration with horror core rap crew Gravediggaz on "The Hell" EP.
In 1995, Tricky set up his own Durban Poison production company and collaborated with Luscious Jackson and Whale. He also released the single "I Be the Prophet" under the Starving Souls name. 1996 saw his next album release "Nearly God" in which he collaborated with guest vocalists including Bj?rk, Neneh Cherry, Terry Hall and Alison Moyet. He moved to New York in 1996 where he began working with underground rappers. The EP "Grassroots" (1996) was released in the US and he also released his "Pre-Millenium Tension" album (1996) under Island which included such tracks as "Tricky Kid" and "Lyrics of Fury". 1996 also saw him re-mix material for artists such as Elvis Costello, Garbage, Yoko Ono and Bush.
"Angels With Dirty Faces" album was released in 1998 and became even darker in style. 1999 saw the release of "Juxtapose" on which he collaborated with DJ Muggs from Cypress Hill and DMX producer Grease. He parted company with Island Records at the end of 1999. In 2001 the EP "Mission Accomplished" was released.
Essential Albums:
Click on album cover to buy.

Discography:
Maxinquaye (1995)
Nearly God (1996)
Pre-Millennium Tension (1996)
Angels With Dirty Faces (1998)
Juxtapose (1999)
Blowback (2001)