Home
|
Encylopaedia
|
Composers
| U2
U2 (1976-)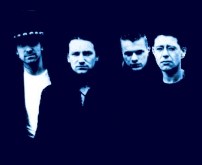 U2 was formed in 1976 in Dublin, Ireland with members including Bono aka Paul Hewson (b. May 10th 1960) as lead singer, The Edge aka David Evans (b. August 8th 1961) on guitar, Adam Clayton (bass guitar), Larry Mullen Jr. (drums) and Dick Evans. They initially called themselves Feedback, before moving on to The Hype. Dick Evans left and the band then changed to U2. Early influences include Patti Smith, the Clash and the Buzzcocks.
Their musical career started when they won a talent contest in 1978 and the Strangler's manager Paul McGuinness saw them play and offered to manage them. They released their debut EP "U2:3" in 1979 which was available only in Ireland. In 1980, they released the "Another Day" single and they signed to Island Records. The same year also saw them release their debut album "Boy" produced by Steve Lillywhite. The release of this album was followed with touring with Talking Heads. Their next album "October" (1981) reached no.11 in the UK charts.
Other albums include "War" (1983) which reached no.1 in the Uk and no.12 in the US and contained the tracks "Sunday Bloody Sunday" and "New Year's Day". Film footage of their Colorado concert was released as a video and EP "Under A Blood Red Sky" which reached no.2 in the UK charts. In 1984, U2 became involved in the Band Aid and Live Aid projects. "The Unforgettable Fire" album (1984) was co-produced by Brian Eno and Daniel Lanois. It reached no.1 in the UK album charts and no.12 in the US. The single "(Pride) In the Name of Love" also gave them a top 40 hit in the US. Their Live EP "Wide Awake in America" was released in 1985.
"The Joshua Tree" (1987) gave U2 their first no.1 hit in the US album charts. It also gave them their third no.1 hit in the UK and it went platinum within 28 hours of being released. The album contained the singles "With or Without You" and "I Still Haven't Found What I'm Looking For". They made a film of their American tour and released a double-album soundtrack of both live and new material called "Rattle & Hum". The next album to follow was "Achtung Baby" (1990) which contained the singles "Mysterious Ways" and "One". They followed this album with another American tour called the American Zoo TV tour and Bono created the Fly - an alter ego.
"Zooropa" was released in 1993 and was supported with touring and the soundtrack album "Batman Forever" was released in 1995 with "Hold Me, Thrill Me, Kiss Me, Kill Me" as the theme music single. The Passengers album was released in 1995 "Original Soundtracks Vol 1" and their latest album release is "All That You Can't Leave Behind" (2000).
Essential Albums:
Click on album cover to buy.



Discography:
Boy (1980)
October (1981)
War (1983)
Under a Blood Red Sky (live) (1983)
The Unforgettable Fire (1984)
Wide Awake in America (live) (1985)
The Joshua Tree (1987)
Rattle & Hum (1988)
Achtung Baby (1991)
Zooropa (1993)
Pop (1997)
All That You Can't Leave Behind (2000)
Hasta La Vista, Baby: Live From Mexico City (2000)