Home
|
Encylopaedia
|
Composers
| BERLIOZ
Hector BERLIOZ (1803-1869)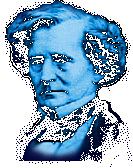 Berlioz was born in La C?te-St-Andr? near Grenoble on the 11th December 1803 and became a leading French romantic composer and a critic. He was good at expressing emotion through highly original music, however in spite of his genius he was very underrated and misunderstood. Even now musicians still criticise him for his so called mistakes, failing to acknowledge his originality. Berlioz was also unusual in that he played the guitar rather than the piano which may account for his unorthodox harmony. He was also proficient at the flute.
He never intended to pursue music and in 1821 went to the Paris medical school but hated it. During this period he also studied music under Jean Le Sueur. He continued until 1824 before he left medical school and then went on to earn a living by writing, singing and teaching. In 1826 he enrolled at the Paris Conservatoire where he studied composing. In 1831 he won the Prix de Rome at the Conservatoire.
Many believe Berlioz to be the father of the modern orchestra. His "Symphonie Fantastique" (1830) was accompanied by a set of notes so the audience could follow the mood of the music and he also enlarged the size of the orchestra. It contained five movements and represented the opium induced delusions of the symphony's hero regarding his beloved. Berlioz at this time was infatuated with the actress Harriet Smithson whom he saw play Shakespeare's Othelia. Berlioz was also heavily influenced by the writer Goethe and "Sorrows of being Werther" was the romantic text for "Symphonie Fantastique". His sequel was "L?lio" or "The Return to Life". He invited Harriet Smithson to his performance of "Symphonie Fantastique" in Paris and they were married in 1833. They had drifted apart by 1840. During this period, Berlioz was a journalist for the Parisian periodicals.
He used motto themes to identify situations and feelings in his music. Byron's "Childe Harold's Pilgrimage" inspired his "Harold in Italy" symphony (1834). This was commissioned by Paganini and included a solo viola part for him. He was also influenced by Beethoven and his melodies show the influence of Gluck. Other symphonic works include his "Grande Symphonie fun?bre et triomphale" or "Great Funereal and triumphant symphony" (1840) which was a government commission for the 10th anniversary of the 1830 revolution. Others were "Romeo et Juliette" (1838) influenced by Shakespeare and "Mort de Cleopatre" (1829). He was also greatly influenced by King Lear. He wrote a famous treatise on orchestration which still remains a standard work.
In 1842 Berlioz embarked on a European concert tour with his new lover, the singer Marie Recio who sang at his concerts. He married her in 1854 after Harriet's death. He achieved greater popularity abroad than at home and he was greatly admired by Liszt and Schumann in Germany and Wagner was influenced by him. Wagner learnt a great deal about orchestration from him. In 1848 he went to London to conduct operas, however he was never paid.
He wrote three religious works "Enfance du Christ" or "The Childhood of Christ" (1850) , "Te Deum" (1849) which used a 600 strong children's choir and "Grand Messe des morts" (1837) which was also known as "Requiem" and was commissioned by the government. It was on a massive scale and was performed with sound coming at the audience from all four corners of the venues. He wrote numerous orchestral works "Waverley" (1827), "Les Francs-Juges" (1827), "Le Roi Lear" (1831) and two operas "Benvenuto Cellini" (1838) which was taken off after only three performances and "Les Troyens". He managed to extract the overture "Roman Carnival" as a concert piece from the failed "Benvenuto Cellini". His most well known opera "Les troyens" or "The Trojans" (1858) was based on the theme of the fall of Troy by the latin poet Virgil. This opera was on a huge scale and had to be scaled down to be performed. It was considered too long and the first part "The Fall of Troy" was never performed in his lifetime. Only the first three acts were given. The work was not staged whole until 1957 in London. In 1860 he completed his last work, the comic opera "Beatrice et Benedict" based on Shakespeare's Much Ado About Nothing.
Today, "Les Troyens", the "Grand Messe des Morts" and "Nuits d'ete" are recognised for their poetry and originality. Marie died in 1862. He travelled less as he got older but did tour during 1866-67 which weakened him. He died in Paris in 1869.
Essential Listening:




Musical Scores and Further Reading: