Home
|
Encylopaedia
|
Composers
| UNDERWORLD
UNDERWORLD (1990-)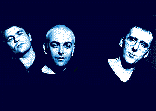 Underworld members include Karl Hyde (guitar/vocals) and Rick Smith (keyboards). They were initially a funk rock outfit called Freur during the late 1980s produced by Tom Bailey of the Thompson Twins and released material such as "Doot Doot". They were quite successful in the US and released "Underneath the Radar" album (1988) under Sire, followed with the release of their next album "Change The Weather" (1989). They supported the Eurythmics in 1990 and Hyde worked with Debbie Harry before forming Underworld in 1990 with Smith and DJ Darren Emerson.
Underworld set out to be a dance music-orientated band with a style that fused together ambient, house, techno, dub and pop. Their first releases include "The Hump" and "Dirty" and their first success came in 1993 with "Mmm Skyscraper...I Love You" and "Rez" which were both popular on the dance floor. During this year they also performed live at Megadog and the MIDI circus.
In 1994 the techno based album "Dubnobasswithmyhead" was released under Junior Boy's Own. They played live in the United States in 1995 with The Chemical Brothers, The Orb and Orbital. Their "Born Slippy" track also received much attention in 1995 when it was used in the soundtrack for the film "Trainspotting". It was reissued in 1996 when it became a chart hit.
Their next album was "Second Toughest In The Infants" (1996) under Junior Boy's Own label in which Underworld introduced elements of breakbeats and drum'n'bass. The same year also saw them headlining a number of dance and rock festivals including Reading and Tribal Gathering's Big Love.
During their career, Underworld have remixed for a number of artists including Bj?rk, Depeche Mode, Simply Red, Leftfield, St.Etienne, and Orbital. They have also continued to DJ around the UK and have released mix albums for MixMag and Deconstruction. Hyde and Smith have been involved in an art and design collective known as Tomato which has carried out various multi-media projects in addition to various commercial projects such as advertising and promo videos. In 1998 Underworld and Tomato collaborated in a series of performances aimed at combining music and the visual arts.
In March 1999 "Beaucoup Fish" was released under V2 label and was followed with touring. The live "Everything, Everything" album was released in 2000.
Essential Albums:
Click on album cover to buy.

Discography:
Underneath the Radar (1988)
Change The Weather (1989)
Dubnobasswithmyheadman (1993)
Second Toughest in the Infants (1996)
Beaucoup Fish (1999)
Everything, Everything (live) (2000)