Home
|
Encylopaedia
|
Composers
| VELVET UNDERGROUND
The VELVET UNDERGROUND (1964-1973)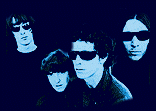 The Velvet Underground were formed in 1964 by Lou Reed (guitarist, singer and song writer), John Cale (bass, viola and organ) with the addition of Sterling Morrison (guitarist) and Angus MacLise on drums (who soon left as he felt uncomfortable accepting money for art) and was replaced by Maureen Tucker (drummer). During their time the Velvet Underground were not commercially successful, being too experimental and avant-garde. They did attract a cult following however, as their lyrics concerning hard reality issues such as drug use in "Heroin" and "I'm Waiting For The Man" hit home to many people.
Their style of music attracted Andy Warhol in 1965 who heard them play at a club. He became their manager and incorporated them into his own art shows known as "The Exploding Plastic Inevitable". He introduced the Velvet Underground to Nico and produced their first album "The Velvet Underground & Nico" (1967) in addition to designing the front album cover. Nico sang three of the songs on the album but Reed still maintained the lead singer role. The album contained the classics "Heroin", "All Tomorrow's Parties", "Venus in Furs", "I'll Be Your Mirror", "Femme Fatale" and "Sunday Morning". The album wasn't released until a year after it was completed and it did not receive good radio play due to the subject matter of the songs. As a result, the album only reached no.171 in the US album charts.
Nico was not considered a permanent member and either left or was fired from the band during 1967. She went on to pursue a solo career. The Velvets released their second album "White Light/White Heat" in 1967 containing such tracks as the 17 minute "Sister Ray". It managed to reach no.199 in the US album charts. Other tracks included "The Gift" on which Cale narrated. During 1968, a rift between Reed and Cale developed with Reed forcing the situation to a head until Cale left. Doug Yule replaced Cale.
Their third album was "The Velvet Underground" (1969) containing such tracks as "Pale Blue Eyes" and "Candy Says". The beginning of 1970 saw them switch labels from MGM to Atlantic and Tucker had to sit out of recording much of their "Loaded" album (1970) due to pregnancy. Billy Yule replaced her on much of the recordings and Reed finally left the Velvet Underground later on in the same year. He went on to pursue a solo career. The band tried to continue, however Morrison and Tucker also left shortly afterwards.
The original Velvet Underground grew in popularity after the departure of Reed, Morrison and Tucker. The "Squeeze" album released after their departure was best forgotten as it was not considered a true Velvet Underground album. The early albums were reissued during the 1980s along with some out-takes. Reed, Cale, Morrison and Tucker reformed and toured briefly in 1993.
Essential Albums:
Click on album cover to buy.



Discography:
The Velvet Underground & Nico (1967)
White Light/White Heat (1967)
The Velvet Underground (1969)
Loaded (1970)
Live at Max's Kansas City (1972)
Squeeze (1973)
1969: Velvet Underground Live (1974)
1969: Velvet Underground Live, Vol.1 (1974)
1969: Velvet Underground Live, Vol.2 (1974)
Live With Lou Reed (1974)
Live (1976)
Live MCMXCIII (single disc) (1993)
Live MCMXCIII (double disc) (1993)