Home
|
Encylopaedia
|
Composers
| VERDI
Giuseppe VERDI (1813-1901)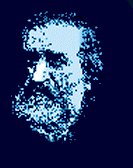 Giuseppe Verdi was born in October 1813 in Le Roncole, near Busseto in Italy. His parents ran a village inn in Parma. He showed great musical talent as a child and initially studied music locally under the church organist before undergoing private tuition in Milan. Even so he was refused admission to the Milan conservatory when he was 18 as he was considered inadequate as a pianist and was past the admission age. He started his career teaching music in Busseto in 1835 where he became the town's music master. Here he undertook church duties, conducted the town orchestra and wrote operas. He also married Margherita Barezzi, the daughter of his patron.
He resigned from this post in 1839 and later moved to Milan where he wrote his first opera "Oberto". It's first performance in November 1839 was at La Scala and was successful. While composing another opera, the comic "Un giorno di regno" his wife and child died. This opera wasn't as successful as his first. He became depressed and lost heart in music for a time afterwards. The director of La Scala helped him through this difficult time and he later wrote the opera "Nabucco" (1842) which was a success. This success brought him many commissions from Italy and beyond. In 1859 he married the soprano Giuseppina Strepponi with whom he had lived in sin with for twelve years beforehand.
Verdi became a national hero in Italy and was probably the greatest national composer since Monteverdi. He was also among the composers who rivaled Wagner during the 19th century. He was a prolific opera writer writing nineteen in fifteen years before semi-retiring. These include his "I Lombardi alla prima crociata" (1843), "Ernani" (1844), "I due Foscari" (1844), "Giovanna d'Arco" (1845), "Alzira" (1845), "Attila" (1846), "Macbeth" (1847) inspired by Shakespeare, "I Masnadieri" (1847), "Jerusalem" (1847), "Il Corsaro" (1848), "La Battaglia di Legnano" (1849), "Luisa Miller" (1849) and "Stiffelio" (1850). By now Verdi had earned enough money to retire, however he composed some of his most successful operas during the 1850s such as "Rigoletto" (1851) based on a Victor Hugo story, "Il trovatore" and "La traviata" (1853) meaning "The Woman Gone Astray" based on a play by Dumas. This was initially a failure before he made some changes. In 1853 he went to live in Paris where he wrote the opera "The Sicilian Vespers". He left in 1857.
Other operas include "Simon Boccanegra" (1857) which was unsuccessful, "A Masked Ball" (1858) which was based on a grand opera libretto by Eug?ne Scribe and "The Force of Destiny" (1862). Verdi became a popular figurehead during the Italian nationalist movement during the 1850s. In 1860 Italy achieved nationhood and Verdi entered parliament himself. In 1874 he was honoured by election to the senate. His opera "Don Carlos" which was based on a play by Schiller needed to have large sections removed before it's first performance in 1867. The opera "Aida" (1871) was performed at Cairo soon after the opening of the Suez canal. There was a gap of 15 years before Verdi wrote his next opera. Later operas include "Otello" (1886) and the comedy opera "Falstaff" (1893). He carried on writing operas well into his eighties.
Verdi wrote colourful and interesting orchestral music to dramatic effect. He also evolved a new style of dramatic vocal writing that replaced the elaborate ornamentation of Rossini. In 1872 he worked on a Requiem to commemorate Rossini and several leading Italian composers were all supposed to contribute. This project never materialized and in 1873 the Italian poet Alessandro Manzoni died so Verdi used the movement he had written towards a work for Manzoni instead. It had it's first performance at a Milan church in 1874 and was repeated at La Scala before going to London, Paris and Vienna.
Part of his appeal was his realism. His "La Traviata" (1853) depicted real characters in shocking circumstances. Because of this, he often fell foul of the censors who were also suspicious of his support for the nationalist movement. He was not a very religious man and was against the oppressive influence of the church. During his later years he opened the Casa di Riposa, a retirement home for musicians in Milan. He died of a stroke at the beginning of 1901 and at his burial there was national mourning. It is estimated that over a quarter of a million people attended his funeral procession. He was buried at the Casa di Riposa. Most of Verdi's work is recorded and remains popular today.
Essential Albums:
Click on album cover to buy.