Home
|
Encylopaedia
|
Composers
| VERVE
The VERVE (1990-1999)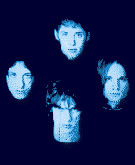 The Verve were formed in Wigan in 1990 with Richard Ashcroft (vocals, guitar), Nick McCabe (guitar), Simon Jones (bass) and Peter Salisbury (drums). They were initially known as Verve. They signed to Hut Recordings in September 1991 and soon released their first three singles "All In The Mind", "She's a Superstar" and "Gravity Grave" in 1992. They supported the Black Crowes on tour and released another single "Blue" in May 1993. Their debut album was released in June "A Storm in Heaven" and this was followed with an American tour with the release of the single "Slide Away". The album received good reviews but it did not do too well in the album charts.
The American Jazz label, Verve, forced the band to change their name to the Verve during this period in time. Their "A Northern Soul" album was released in November 1993 containing the singles "This Is Music" and "On Your Own" that both entered the UK top 40 in 1995. The "History" single reached no.24. The album was rumoured to have been recorded under the influence of ecstasy. The Verve temporarily split in 1995 after their performance at T in the Park in Glasgow in 1995. However they soon joined together again with the addition of Simon Tong on guitar and keyboards.
Their next album "Urban Hymns" was released in 1997 and finally launched the band into success. Singles include "Bitter Sweet Symphony" which reached the no.2 position in the UK charts and sampled from the Rolling Stone's "The Last Time". ABKCO Music took them to court and won the song's publishing rights. The album also contained "The Drugs Don't Work" which reached the no.1 position in the UK charts and "Lucky Man" which reached no.7. "Urban Hymns" became one of the fastest selling British albums of all time.
The band followed the album up with US and British tours in 1997. McCabe pulled out of the band during their 1998 US tour and they finally split in 1999.
Essential Albums:
Click on album cover to buy.

Discography:
A Storm in Heaven (1993)
A Northern Soul (1995)
Urban Hymns (1997)