Home
|
Encylopaedia
|
Composers
| VON BINGEN
Hildegard VON BINGEN (1098-1179)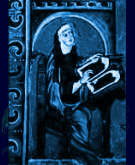 Hildegard Von Bingen was one of the most famous and influential women of the middle ages. She was the 10th child born in 1098 into a wealthy Rheinhessen family and was destined to become a nun from an early age. At 8 she was accepted into the Benedictine monastery of Disibodenberg in Southern Germany and was recognised as a child prodigy. She was tutored by the Abbess, Jutta Von Spanheim and when she died in 1136, Hildegard acceded to the position of magister of the convent. Between 1147 and 1150, she left with 18 of her nuns and founded her own independent convent on the Rupertsberg near Bingen. She remained there for the rest of her life.
In addition to being head of her own convent, Hildegard was an extraordinary composer and musical performer. She became a correspondent with two popes, the Holy Roman Emperor Frederick Barbarossa and Saint Bernard of Clairvaux in addition to being a gifted poetess. In 1141 she experienced a series of religious visions culminating in a visitation of tongues of fire from heaven. She began recording her visions and insights in a series of manuscripts collected into the book "Scivias" (Know the Ways). Another important manuscript "The Rupertsberger Codex" was completed in 1165 containing beautiful illuminated miniatures. Other work written by Hildegard included "Physica" concerning natural history, "Causae et Curae" on medicine and other work written in a secret language, language probably used by her nuns.
In 1158 she gathered her music into a cycle called "Symphoniae harmoniae a celestium revelationum" (The Symphony of the Harmony of Celestial Revelations) used for worship at the convent. The original edition contained over 60 antiphons, responsories, hymns and sequences, however Hildegard continued to enlarge the collection throughout the 1160s and the final count was 77.
Hildegard composed music in the monophonic style which was characteristic of the times. She made great use of plainchant modes and was influenced by Pope Gregory I, St. Augustine and the Roman and Byzantine periods. She became respected for setting her own words to music as is seen in another major work "Ordo Virtutum" (Play of Virtues) (c.1150) which was a musical morality play. It was bound by subject and illusion to the earlier cycle giving symbolic life to the spiritual forces of the universe first depicted in the Symphoniae. It represented Hildegard's soul and the struggle to reach immortality and to reject the pleasures proffered by the devil. The work stands as being the oldest surviving Christian music drama and was probably written for the opening of the convent in Rupertsberg.
Her last work before her death was the cosmology "Liber divinorum operum" (1163-73). Hildegard became a very influential woman during her lifetime and was greatly honoured. She was known as the "Sybil of the Rhine". After her death, her name was put forward more than once for canonization by at least 2 different popes. She never achieved the status however.
Essential Albums:
Click on album cover to buy.