Home
|
Encylopaedia
|
Composers
| WAGNER
Richard WAGNER (1813-1883)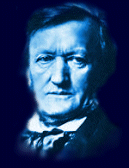 Richard Wagner was a German composer, conductor, author and poet and he became one of the handful of composers who changed the course of western music, especially opera. He was born in Leipzig on the 22nd May 1813. The early works of Wagner were traditional and decorative and his later work became richly expressive and on the grandest scale. His mature work displayed no permanent home key even though it remained tonal. His music dominated the 19th century.
In 1831 he went to Leipzig university to study music. His career was dedicated to opera and he wrote his first one in 1832 "Die Hochzeit" which he later destroyed. In 1833, he became the choral conductor at W?rzburg and he also completed the opera "Die Feen". He became the orchestral conductor at the theatre in Lauchst?dt and later in 1834, the musical director at the theatre of Magdeburg. His second opera "Das Liebesverbot" (1836) meaning "The Ban on love" was based on Shakespeare's comedy "Measure for Measure" and was only performed once. He married the actress/soprano Minna Planer in 1836 and their marriage was to be a rocky one as she left his temporarily a year later for another man. In 1837 Wagner was appointed conductor at the theater in Riga on the Baltic.
In 1839 Wagner and Minna went to live in Paris by stowing away on a ship to England before going on to France. Here he scraped a living in near poverty writing articles and became friends with Meyerbeer. Articles include "The Artwork of the Future" and "Judaism in Music" where he attacked Meyerbeer. He also became influenced by the music of Berlioz. His first successful opera was "Rienzi" (written between 1838-40) which was first shown in Dresden in 1842. He turned to German legend for his next opera "The Flying Dutchman" in 1841 which became his second successful opera. This opera was based on a supernatural theme where the haunted Dutchman sails the seas endlessly until redeemed by a woman's trusting love. The success with his operas led to Wagner's appointment as the court opera conductor. He was the conductor at the legendary performance of Beethoven's 9th Symphony.
During this period Wagner began to become associated with a political group known as "Young Germany", a semi-revolutionary intellectual movement. He was interested in reforming the theatre and became involved with their propaganda. In 1849, he sided with the revolutionaries uprising in Dresden and fled to Liszt at Weimar after the police issued a warrant for his arrest. He eventually settled in Z?rich where he wrote a series of essays including the "Oper und Drama" concerned with the relationship between music and theater. He was in exile for a total of thirteen years.
His next opera was "Tanh?user" in 1845 followed by the opera "Lohengrin" (1846-48) which contained a medieval setting based around a Knight of the Holy Grail. It had it's premier in Weimer under Liszt as Wagner could not attend. It only received limited success. He started writing his comic opera "The Mastersingers" (1868) and "The Mastersingers of Nuremburg" between 1862-67.
Wagner developed the idea of continuous drama which was a completely new idea as opera was usually extremely structured with a set of songs normally linked by narrative sections. His later works include "Tristan and Isolde" in 1857-59 which was based on a love affair he had with Mathilde Wesendonck (the wife of a silk merchant and one of Wagner's patrons). He set some of her poems to music. It was hoped that "Tristan" would be performed in Vienna but after 77 rehearsals it was abandoned as "unperformable". It did not receive good reviews at all initially. The work only had 4 performances in total as the lead singer died in 1865. His operas required a new technique of singing which some performers found difficult and others were hard to replace.
His wife left him in 1858 (not for the first time) due to his various affairs, however after her death in 1866, he married Cosima von Bulow in 1870 (who had already borne him three children). He was allowed to re-enter Germany in 1861. The successful performance of the revised "Tanh?user" in 1860 helped to lift the ban.
He wrote his operatic quartet "The Ring" or "The Ring of the Nibelung" which took twenty years to complete and included the "The Rhine Gold" (1852-54), "The Valkyrie" (1854-56), "Siegfried" (1856-71) and "G?tterd?mmerung" meaning "Twilight of the Gods" (1870-74). This work was based on the mythological story of the Germanic segas of the hero Siegfried and involved gods, dwarves (nibelungs), giants and humans. His publishers would not initially accept this work as it's huge length made it commercially unattractive. This opera takes over sixteen hours to perform. The first two parts of the Ring Operas were performed at Munich in 1869 and 1870. The Ring is now considered to be Wagner's greatest achievement.
He fled Vienna in 1864 due to heavy debts, but was helped by King Ludwig II of Bavaria who greatly admired his music and became his patron. Wagner was invited to Munich by Ludwig and his debts were all cleared and a stable income was provided. He became the centre of scandal when his affair with Cosima von Bulow, daughter of Liszt and wife of a royal musician at court became public knowledge. Political opposition in Munich, led to his departure from there. Ludwig asked Wagner to leave and he set up home in Switzerland with Cosima.
He built a theatre, the "Festpielhaus" at Bayreuth in 1876 so that his last work, the festival dramatic opera "Parsifal" (completed in 1882) should be performed only at this new theatre. He launched the Bayreuth festivals which are still celebrated today, the first took place in the summer of 1876. The theatre was built so that it contained the orchestral pit sunk deep under the stage which acted as a "sound-box". The performance was designed to be projected into the fan-shaped amphitheatre like a horn. His overall aim was to combine music, poetic drama, scenery and dance together in an opera. From 1878, he suffered from a series of heart attacks, the fatal one occurring in Venice in February 1883. His body was taken via gondola to the railway station then to Bayreuth where he was buried in the garden of his house. He still remains a large influence on other composers even a century after his death. Such composers include Strauss, Verdi and Debussy.
Essential Albums:
Click on album cover to buy.