Home
|
Encylopaedia
|
Composers
| WALSH
Joe WALSH (1947-)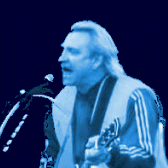 (1947-)
Joe Walsh was born on the 20th November 1947 in New Jersey, USA. He formed his first band in 1965 with the G-Clefs, before moving on to the Measles and then the James Gang in 1969. He left James Gang in 1972 and formed Barnstorm with Joe Vitale (drums) and Kenny Passarelli (bass). They released "Barnstorm" in 1972 under ABC, followed by "The Smoker You Drink, The Player You Get" (1973) which contained the tracks "Meadows" and "Rocky Mountain Way". The band split in 1973 and Walsh went on to produce Dan Fogelberg's "Souvenirs" album in 1974 and guested on albums by Stephen Stills, The Eagles and B.B.King. He played live with such artists as the Beach Boys, Elton John and The Eagles.
His "So What?" album (1975) containing the track "Turn To Stone" went gold and in the same year he replaced Bernie Leadon and joined The Eagles as joint lead guitarist with Glen Frey. His solo on "Hotel California" was one of the album's highlights. In addition to this he managed to maintain a successful solo career with the release of "You Can't Argue With A Sick Mind" (1976) and "But Seriously Folks..." (1978) under Asylum which featured the track "Life's Been Good".
Walsh has always been a very confident man and at one point was rumoured to have stated that he would stand for U.S. president at the next election. He often stood in as session guitarist for other artists and he contributed to the soundtrack "Urban Cowboy" and had a U.S. top 20 hit with "All Night Long". He kept his best material for his own solo albums. Further releases include "There goes the Neighborhood" (1981), "You Bought It You Name It" (1983) under Warners, "The Confessor" (1985), "Got Any Gum?" (1987) and "Ordinary Average Guy" (1991) under Epic.
In 1992 he played with Ringo Starr on his comeback tour and in 1995 he made a comeback with The Eagles. In 1995 he also released "Robocop - The Series Soundtrack" under Essential. Compilations include "The Best of Joe Walsh" (1978) under ABC, "All The Best" (1994) under Pickwick and "Look What I Did! - The Joe Walsh Anthology" (1995) under MCA.
Essential Albums:
Click on album cover to buy.

Discography:
Barnstorm (1972)
The Smoker You Drink, The Player You Get (1973)
So What (1975)
You Can't Argue With A Sick Mind (live) (1976)
But Seriously Folks (1978)
There Goes The Neighborhood (1981)
You Bought it: You Name it (1983)
The Confessor (1985)
Got Any Gum? (1987)
Ordinary Average Guy (1991)
Songs For A Dying Planet (1992)
Night Riding (1992)
Future To This Life (1995)
Robocop: The Series Soundtrack (1995)
Joe Walsh (1995)