Home
|
Encylopaedia
|
Composers
| WATERS
Muddy WATERS (1915-1983)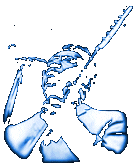 Muddy Waters (born McKinley Morganfield) grew up listening to Son House, Robert Johnson and Charlie Patton. In 1941, two musicologists discovered Muddy Waters while visiting the Mississippi Delta searching for Robert Johnson. He was then a tenant farmer, however two years later, in 1943, he moved to Chigaco where he quickly found work with a host of established Chigaco musicians such as Sonny Boy Williamson and Sunnyland Slim.
In 1944, he bought his first electric guitar and two years later he formed his first band. His style incorporated a raw electric sound with country style blues and could be described as bridging the delta blues with the Chicago style. This style was to become known as "rhythm and blues".
In Chigaco, Muddy Waters became friends with Big Bill Broonzy who tried to help him achieve a record contract. In the end, Aristocrat a Chicago-based record company took him on and he recorded his first record "Gypsy Woman" which didn't do too well. His second record "I can't be Satisfied" was a hit. The Muddy Waters Band included Muddy on guitar and vocals, Jimmy Rogers on second guitar, Little Walter on peerless harmonica, Otis Spann on piano, Willie Dixon on bass and Fred Below on drums. Muddy Waters became one of the most influential figures on white blues musicians during the 1960s.
Muddy Waters recorded many hits during his career such as "Rollin' Stone", "I'm your Hoochie Coochie Man", "I Just want to make love to you", "I'm Ready", "Rollin' and Tumblin'" and "Got my Mojo Workin'" He toured Britain and Europe in 1958, 1963 and 1964 and established himself as the main influence in the blues revival. During the 1970s, his career was again revived with the help from Johnny Winter. He remained musically active on the international music scene almost until his death.
Essential Albums:
Click on album cover to buy.


Discography:
Mississippi Blues (1956)
At Newport (1960)
Muddy Waters Sings Big Bill Broonzy (1960)
Folk Festival of the Blues (1963)
Folk Singer (1964)
Muddy Waters (1964)
Muddy Waters With Little Walter (1965)
The Real Folk Blues (1965)
Down on Stovall's Plantation (1966)
Muddy Waters: The Blues Man (1966)
Muddy, Brass and Blues (1966)
Blues From Big Bill's Copacabana (1967)
Muddy Brass & the Blues (1967)
More Real Folk Blues (1967)
Super Blues (1968)
Super Super Blues Band (1968)
Electric Mud (1968)
After The Rain (1969)
Fathers and Sons (1969)
Sail On (1969)
Vintage Mud (1970)
Back in the Good Old Days (1970)
Good News (1970)
Goin' Home: Live in Paris 1970 (1970)
They Call Me Muddy Waters (I) (1970)
Live at Mister Kelly's (1971)
A.K.A. McKinley Morganfield (1971)
The London Muddy Waters Sessions (1971)
McKinley Morganfield A.K.A. Muddy Waters (1972)
Mud in Your Ear (1973)
Can't Get No Grindin' (1973)
London Revisited (1974)
Muddy & The Wolf (1974)
'Unk in Funk (1974)
Woodstock Album (1975)
Live at Jazz Jamboree '76 (1976)
Chess (1977)
Hard Again (1977)
Live (1977)
Unk in Funk (1977)
Muddy Waters Live (1977)
I'm Ready (1978)
Muddy "Mississippi" Waters: Live (1979)
Chicago 5 Golden Years (1980)
King Bee (1981)
Rolling Stone (1982)
Muddy Live (1989)
Muddy Waters (1990)
Chicago - London (1991)
Live (1991)
Mannish Boy (1992)
London Sessions (1992)
I'm Your Hootchie Coochie Man (1992)
She Moves Me (1992)
Live in Switzerland 1976, Vol.2 (1993)
Live in 1958 (1993)
Goodbye Newport Blues (live) (1995)
Live at Newport (1995)
Collaboration (1995)
Forty Days & Forty (1996)
Baby Please Don't Go (1996)
Muddy Waters Blues Band Featuring Dizzy Gillespie (1996)
Louisiana Blues (1996)
Muddy Waters in Concert (live) (1996)
Paris 1972 (1997)
Goin' Way Back (1997)
Muddy Waters and Friends (1997)
Ol' Man Mud (2000)
Journeyman Blues (2001)
Muddy's Blues (2001)
Down South Blues (2001)