Home
|
Encylopaedia
|
Composers
| WATERS
Roger WATERS (1943-)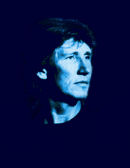 Roger Waters was born on the 6th September 1943 in Surrey, UK. He is best known as the bassist and main song-writer with the band Pink Floyd. He left the group to pursue a solo career after the album "The Final Cut" however, and these days is keen to dis-associate himself from the band which he sees as having become essentially publicity and profit-centred.
After Pink Floyd's original songwriter Syd Barrett left the band because of drug and personality problems, Roger Waters quickly emerged as its main creative force, taking it from its turning point album "Dark Side of the Moon" through to the album "The Final Cut" which sounded more like a solo project with the rest of the band simply playing as studio musicians. Other work included "Saucerful of Secrets" and "Ummagumma".
Waters sometimes ego-maniacal domination of Pink Floyd eventually led to its split and later reformation without Waters. There were massive legal battles concerniong ownership of the band's name which Waters felt should die with his departure. The rest of the band felt otherwise and although Waters succeeded in securing various assurances and royalties regarding much of the material that he had composed he was unable to prevent the other members continuing to tour and produce albums using the name Pink Floyd.
Initially extremely bitter that his work was being used to catapault Pink Floyd to even greater heights of fame and fortune with a new commercial gloss and superficial albums, Waters persevered with his own career looking to shake off the trappings of superstardom and concentrate on the integrity of his work as a songwriter and lyricist.
"The Pro's and Con's of Hitchiking" (1984) featuring Eric Clapton on guitar was his first release after leaving Pink Floyd and one has only to compare it to the first release of the post-waters Floyd ("Momentary Lapse of Reason") to realise that musically their paths had now gone in very different directions. Waters has himself likened the difference to that between "sumo and wrestlemania" and while his solo career has never flourished commercially the newsgroups of the internet alone are testimony to how many ardent Floyd and Waters fans share this view.
"Radio Kaos" (1987), his second album after leaving the band enjoyed moderate commercial success but its followup "Amused to Death" (1992) was not hugely successful despite being (in the opinion of both Roger and his fans) some of the finest work he had ever done.
Other projects that he has been involved in include the haunting holocaust cartoon "When the Wind Blows" for which he wrote most of the score, an earlier collaboration with Ron Geesin - "Music From the Body", and the score for an opera entitled "Ca Ira".
In 2000 he released a live double album "In The Flesh". As well as touring the States he is currently believed to be working on a new studio album. He rejoined his former band members for a performance at the Live 8 concert.
Essential Albums:
Click on album cover to buy.






Discography:
Music From "The Body" (1970)
The Pros and Cons of Hitch Hiking (1984)
When The Wind Blows (1987)
Radio K.A.O.S. (1987)
Amused To Death (1992)
In The Flesh Live (2000)
Ca Ira (2005)