Home
|
Encylopaedia
|
Composers
| WHO
The WHO (1964-1983)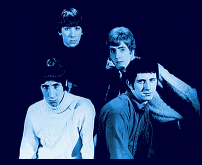 The Who was formed in 1964 with members Roger Daltrey (vocals), Pete Townshend (guitar), Keith Moon (drums), John Entwistle (bass) and Kenny Jones. Townshend and Entwistle were ex-school friends from London who had previously been in bands together before they all came together as the Who. They started off playing at the Marquee club in London where Pete Meaden became their manager, dressed them in smart mod suits and renamed them as the High Numbers. They released just one single "I'm The Face"/"Zoot Suit" written by Meaden which didn't do very well before they rid themselves of him and began working with Kit Lambert and Chris Stamp.
They became the Who again and began playing live soul, R&B and Motown to a growing dedicated following. In 1964 they signed to Decca and with producer Shel Talmy, they recorded and released their "I Can't Explain" single which started to do well in the UK charts, reaching the top 10 after their "Ready, Steady, Go" appearance on television. "My Generation" was released in November 1965 and reached no.2 in the UK charts. The song became associated with the mod subculture that was emerging in the UK during the 1960s.
Essential Albums:
Click on album cover to buy.

Discography:
The Who Sings My Generation (1965)
A Quick One (Happy Jack) (1966)
Happy Jack (1967)
The Who Sell Out (1967)
Magic Bus (1968)
Tommy (1969)
Live at Leeds (1970)
Who's Next (1971)
Quadrophenia (1973)
The Who By Numbers (1975)
Who Are You (1978)
The Kids Are Alright (live) (1979)
Face Dances (1981)
It's Hard (1982)
Who's Last (live) (1984)
Two's Missing (1987)
Join Together (live) (1990)
Live at the Isle of Wight Festival 1970 (1996)