Home
|
Encylopaedia
|
Composers
| WINTER
Johnny WINTER (1944-)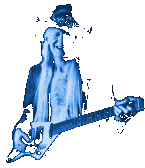 Johnny Winter was born on the 23rd February 1944 in Mississippi, USA. He was a child prodigy and showed a great talent in playing the guitar. His recording debut was in 1960 fronting Johnny and the Jammers and by 1968 he had formed a trio named Winter with Tommy Shannon (bass) and John Turner (drums). They released "The Progressive Blues Experiment" (1969) under Sonobeat/Imperial, "Johnny Winter" (1969) under Comumbia and "Second Winter" which contained the tracks "Johnny B. Goode" and "Highway 61 Revisited".
In 1970 he was joined by the McCoys and Rick Derringer (guitar) and released the album "Johnny Winter And" (1970) and "Johnny Winter And Live" (1971). During this period he became a heroin addict and he didn't release any new material until 1973 with the album "Still Alive and Well". Further album releases include "Saints and Sinners" (1974), "John Dawson Winter III" (1974) under Blue Sky, "Captured Live!" (1976) under Blue Sky, "Nothin' But The Blues" (1977), "White Hot and Blue" (1978), "Raisin' Cain" (1980), "Raised on Rock" (1981), "Guitar Slinger" (1984) under Alligator, "Serious Business" (1985), "Third Degree" (1986), "Winter of 88" (1988) under MCA, "Let Me In" (1991) under Virgin/Pointblank, "Jack Daniels Kind of Day" (1992) and "Hey, Where's Your Brother?" (1992).
Winter has also found the time to produce some albums for Muddy Waters.
Essential Albums:
Click on album cover to buy.


Discography:
The Johnny Winter Story (1969)
Johnny Winter (1969)
The Progressive Blues Experiment (1969)
Second Winter (1969)
Johnny Winter and ... (1970)
Story (1971)
Johnny Winter and ...(live) (1971)
Austin, Texas (1972)
Still Alive and Well (1973)
Saints and Sinners (1974)
John Dawson Winter III (1974)
Captured Live! (1976)
Together - Live (1976)
Nothin' But The Blues (1977)
White Hot & Blue (1978)
Raisin' Cain (1980)
Guitar Slinger (1984)
Serious Business (1985)
Third Degree (1986)
And/Alive! (1986)
The Winter of '88 (1988)
Birds Can't Row Boats (1988)
Let Me In (1991)
Scorchin' Blues (1992)
Hey, Where's Your Brother? (1992)
Live in Houston Busted in Austin (1994)
Blues to the Bone (1995)
Rock & Roll People (1995)
Jack Daniels Kind of Day (1996)
White Lightning (1996)
Livin' in the Blues (1996)
Ease My Pain (1996)
School Day Blues (1996)
Sideman (1996)
Electric Blues Man (1996)
Liberty Hall Sessions (live) (1996)
White Hot Blues (1997)
White Heat (1997)
Live in NYC '97 (1998)
Winter Heat (1998)
Livin' in the Blues (1998)
Suicide Won't Satisfy (1998)
Black Cat Bone (1999)
Back in Beaumont (2000)
Return of Johnny Guitar (2000)
Walking By Myself (live) (2000)