Home
|
Encylopaedia
|
Composers
| YOUNG
Neil YOUNG (1945-)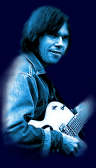 Neil Young was born in Toronto, Canada on the 12th November 1945. He was the son of a well known sports journalist. From a very early age, Young was involved in bands including The Mynah Birds and Buffalo Springfield with Bruce Palmer, Stephen Stills, Richie Furay and Dewey Martin on drums. They reputedly received over 20 offers from record companies before they signed with Alco. Their first album, "Buffalo Springfield" contained the tracks "For What it's Worth" which was a top 10 single and "Sit Down I Think I Love You". Their second album, "Buffalo Spring Again" contained the tracks "Expecting to Fly", "Broken Arrow" and "Mr. Soul". Their next album "Stampede" was never released.
Neil Young left the band, only to return and leave again. As Buffalo Spring, they performed their last gig on 5th May 1968. As a solo artist, Young released his "Neil Young" album which contained the track "The Loner", however it failed to chart. His next step was to play with the group Crazy Horses and release an album "Everybody Knows This Is Nowhere" which contained the tracks "Down by The River", "Cowgirl in The Sand" and "Cinnamon Girl". It went into the charts at no.34.
During 1969, Young toured with Crosby, Stills and Nash as Crosby, Stills, Nash and Young. Together they released the album "Deja Vu" which contained the tracks "Helpless", "Woodstock", "Almost Cut My Hair", "Country Girl" and "Everybody I Love You" and it became a US no.1 hit.
In spring 1970, Young recorded the protest track "Ohio" in response to the political movement occurring against America's invasion of Cambodia. It became a top 20 US hit. Crosby, Stills, Nash and Young then released a live double album "Four Way Street". Young's next solo album was "After The Gold Rush" which featured artists such as Stills, Crazy Horse, Greg Reeves and Nils Lofgren. It reached the LP top 10 on both sides of the Atlantic. It contained the tracks "Only Love Can Break Your Heart" which was a chart single in the US and "Southern Man".
During his life, Young suffered from epilepsy and diabetes and in 1971, he also suffered from a bad back which affected his ability to tour. He recorded his next album "Harvest" whcih became a no.1 hit in both the US and UK. It contained the tracks "Heart of Gold" which became a no.1 single, "Old Man" and "A Man Needs a Maid".
His next film was "Journey Through The Past" which generated a poor double album sound track which didn't even make the top 40. In 1975 in contrast to past albums, he promoted "Tonight's the Night". Other albums to follow include "Zuma" which contained the tracks "Cortez the Killer" and "American Stars and Bars" which contained "Like a Hurricane".
During the mid to late 1970s, Young made a comeback with his "Comes a Time" (1978) album which contained "Lotta Love" and with "Rust Never Sleeps" (1979) which reached the LP top 10. In 1982, he released another poorly received film "Journey Through the Past and Rust Never Sleeps".
Essential Albums:
Click on album cover to buy.


Discography:
Neil Young (1969)
Everybody Knows This Is Nowhere (1969)
After The Gold Rush (1970)
Harvest (1972)
Journey Through The Past (1972)
Time Fades Away (1973)
On The Beach (1974)
Tonight's The Night (1975)
Zuma (1975)
Long May You Run (1976)
American Stars'N'Bars (1977)
Comes A Time (1978)
Rust Never Sleeps (1979)
Live Rust (1979)
Where The Buffalo Roam (1980)
Hawks & Doves (1980)
Re-ac-tor (1980)
Trans (1983)
Everybody's Rockin' (1983)
Old Ways (1985)
Landing on Water (1986)
Life (1987)
This Note's For You (1988)
Freedom (1989)
Eldorado (1989)
Ragged Glory (1990)
Arc (live) (1991)
Weld (live) (1991)
Arc-Weld (live) (1991)
Harvest Moon (1992)
Lucky Thirteen (1993)
Unplugged (live) (1993)
Sleeps With Angels (1994)
Mirror Ball (1995)
Dead Man (1996)
Broken Arrow (1996)
Year of The Horse (live) (1997)
Silver and Gold (2000)
Road Rock, Vol.1 (live) (2000)
Mystery Train (2001)