Home
|
Encylopaedia
|
Composers
| ZAPPA
Frank ZAPPA (1940-1993)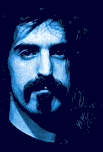 Frank Zappa was born in Baltimore, Maryland and became one of the most original and talented composer/artists of modern music. He was well known for his outspoken and controversial views and was a source of annoyance to the established music world of record companies and radio stations. He was also an extremely competent guitarist whose interest in music ranged from Varese, Stravinsky, and Weber to R&B and the Velvet Underground. In addition to the guitar, Zappa was also proficient on a range of other musical instruments.
Before becoming the leader of The Mothers of Invention, he spent his twenties as an unsuccessful film-score writer, attended college to study music, became an advertising copywriter, door to door salesperson and a greetings card designer. He co-wrote and released his first single "Break Time" (1962) as the Masters with Paul Buff. Various singles under different guises followed such as "Tijuana Surf" by The Hollywood Persuaders which became a no.1 hit in Mexico for ten months. With money he had earned during a film-score for Run Home Slow (1965) he bought Paul Buff's studio and renamed itStudio Z.

Frank appeared on the Steve Allen show in 1963 where they both improvised on two bicycles, accompanied by a backing tape and the studio band. He also financed a concert of his own experimental music in 1963 at a college in Los Angeles including pieces such as "Piece No.2 of Visual Music For Jazz Ensemble and 16mm Projector". The concert was recorded and was broadcast on local radio. He joined the Soul Giants in 1964 and they were soon renamed the Mothers. They signed a recording deal with Tom Wilson and renamed themselves The Mothers of Invention. Members included Frank, Ray Collins, Jimmy Carl Black, Roy Estrada and Elliot Ingber. Later others would join such as Ian Underwood, Bunk Gardner, Arthur Tripp, Don Preston and Jim Sherwood.
Albums included "Freak Out" (1966) which contained the tracks "Who are the brain police?", "Trouble comin' every day" and "The Return of the Son of Monster Magnet", "Absolutely Free" (1967), "Lumpy Gravy" (1967), and "Uncle Meat" (1969) which included tracks such as "Uncle Meat", "Dog Breath" and "King Kong". A New York tour was carried out in 1967 which included rotting vegetables and a giraffe that sprayed whipped cream at the audience. "We're Only In It for The Money" was released in 1968 which mimicked the Sgt Pepper album by the Beatles. Frank had included a sleeve note which urged the listener to read Franz Kafka's In the Penal Settlementbefore listening to "The Chrome Plated Megaphone Of Destiny".
In late 1969, Frank disbanded The Mothers of Invention and formed Hot Rats which released the single "Willie the Pimp" sung by Captain Beefheart. He produced the "Trout Mask Replica" album of Beefheart's and they toured together in 1975 resulting in the release of "Bongo Fury" (1975). In 1970, he worked with Mark Volman and Howard Kaylan and released the film "200 Motels" (1970) which featured Ringo Starr, Keith Moon and the Royal Philharmonic Orchestra. A sound track album was later released "The Pleated Gazelle", along with a tour.
Other albums that followed include "The Grand Wazoo" (1972), "Roxy & Elsewhere" (1974), "Studio Tan's" (1978), "Sheik Yerbouti" (1979) which is one of his best selling albums to date, "One Size Fits All" (1975), "Sleep Dirt" (1979), "Joe's Garage, Acts I, II & III" (1979), and "Shut Up 'N Play Yer Guitar" (1981). He also released a twelve-CD series of live recordings from 1965 to 1988 "You Can't do That On Stage Anymore" (1988 - 92). Band members to come and go during this period include Steve Vai, Terry Bozzio, George Duke, Jean-Luc Ponty, Warren Cucurullo and Adrian Belew.
During the 1980s, Frank worked from his state-of-the-art home recording studio calledThe Utility Muffin Research Kitchenand released work of a more serious nature which was performed by the London Symphony Orchestra "LSO Vols. 1 & 2" (1983 - 87). Other work involved "The Perfect Stranger" (1984) in addition to commissions from the Kronos Quartet and the Aspen Wind Quartet. A few minor set backs were incurred such as the cancellation of a series of European tours in 1979 - 80 which cost Frank approximately $250,000 without a note being played.
In 1984 he posed as the 18th century character Francesco Zappa and released the eponymous "Digital Baroque Dinner Party Music" album. The same year he released "Them or Us" and played a one hundred and twelve gig tour. A "Them or Us" book was published through Frank's own mail order outlet, Barfko-Swill and "Thing-Fish" was also released. This was originally to be an Off-Broadway musical with themes ranging from racial, sexual, religious to political oppressions. An article relating to "Thing-Fish" was also published in the American porno magazine Hustler.
In 1985 Frank testified to the US congress, fighting music censorship proposals initiated by the Parents' Music Resource Centre. Excerpts soon appeared, mutilated on his next release "Frank Zappa Meets The Mothers Of Prevention" (1985). The title track from "Jazz From Hell" (1986) earned Frank a Grammy for Best Rock Instrumental, however he was not overly impressed and rightly saw it as a fake gesture with his "The Grammys Are All Fake" statement.
He visited Czechoslovakia in 1990, Preident Havel being a fan and was briefly made an overseas trade representative, an appointment soon thwarted by US governmental pressure. In 1991 he announced that he intended to stand as a non-partisan presidential candidate, summarizing his political leanings as being practical conservatism. Unfortunately he was diagnosed with having prostate cancer in 1991 which sidelined his ambitions slightly. Despite worsening ill-health, Frank carried on working with a series of concerts in Frankfurt, Berlin and Vienna in 1992. He died aged fifty two on December 4th, 1993 at home in Los Angeles. An album "Civilization: Phase III" was issued twelve months later, followed by "The Lost Episodes" (1996) which contained tracks recorded between 1958 - 1992.
Towards the end of his career, Frank had a strong anti-drug stance which he reckoned ranked "a close second to television" in terms of boredom.
Essential Albums:
Click on album cover to buy.

Discography:
Freak Out! (1966)
Absolutely Free (1967)
Lumpy Gravy (1968)
We're Only in it for the Money (1968)
Cruising with Ruben and the Jets (1968)
Burnt Weeny Sandwich (1969)
Uncle Meat (1969)
Hot Rats (1969)
Weasels Ripped My Flesh (1970)
Chunga's Revenge (1970)
Fillmore East: June 1971 (live) (1971)
200 Motels (1971)
Just Another Band from L.A. (live) (1972)
Waka/Jawaka (1972)
The Grand Wazoo (1973)
Over-Nite Sensation (1973)
Apostrophe (1974)
Roxy & Elsewhere (live) (1974)
One Size Fits All (1975)
Bongo Fury (live) (1975)
Bongo Fury (1975)
Zoot Allures (1976)
Zappa in New York (live) (1978)
Studio Tan (1978)
Sleep Dirt (1979)
Sheik Yerbouti (1979)
Orchestral Favorites (1979)
Joe's Garage: Act 1 (1979)
Joe's Garage: Acts 2 & 3 (1979)
Return of the Son of Shut Up 'N Play Yer Guitar (1981)
Tinsel Town Rebellion (live) (1981)
You Are What You Is (1981)
Ship Arriving Too Late To Save a Drowning Witch (1982)
The Mothers (1982)
Baby Snakes (live) (1983)
Man From Utopia (1983)
London Symphony Orchestra, Vol.1 (1983)
Boulez conducts Zappa/The Perfect Stranger (1984)
Them or Us (1984)
Thing-Fish (1984)
Francesco Zappa (1984)
True Glove (1984)
The Perfect Stranger (1984)
Shut Up 'N Play Yer Guitar Some More (1986)
Shut Up 'N Play Yer Guitar (1986)
Jazz From Hell (1986)
Zappa, Vol.1 (1986)
Does Humor Belong in Music? (live) (1986)
London Symphony Orchestra 2 (1987)
The Black Page (1977) (1987)
Guitar (1988)
You Can't Do That on Stage Anymore, Vol.1 (live) (1988)
You Can't Do That On Stage Anymore, Vol.2 (live) (1988)
Broadway The Hard Way (live) (1988)
You Can't Do That On Stage (Sampler) (1988)
You Can't Do That on Stage Anymore, Vol.3 (live) (1989)
Frank Zappa Meets The Mothers of Prevention (1990)
The Best Band You Never Heard in Your Life (live) (1991)
You Can't Do That on Stage Anymore, Vol.4 (live) (1991)
Make a Jazz Noise Here (live) (1991)
You Can't Do That on Stage Anymore, Vol.5 (live) (1992)
Playground Psychotics (live) (1992)
Tengo Na Minchia Tanta (1992)
Ahead of Their Time (live) (1993)
The Yellow Shark (1993)
Civilization Phaze III (1995)
Lost Episodes (1996)
Prophetic Attitude (1997)
Cheap Thrills (1998)
Mystery Disc (1998)
Zappa On The Road (live) (1999)
Everything is Healing Nicely (1999)
How's Your Bird (2000)
Watermelon in Easter Hay (2000)