Home
|
Encylopaedia
|
Composers
| RACHMANINOV
Sergey RACHMANINOV (1873-1943)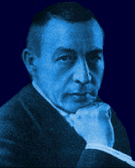 Serbey Rachmaninov was born in Semyonovo on the 1st April 1873. He studied at both the conservatories at St. Petersburg and Moscow until 1892 and was also a pupil of Taneyev (1856-1915). He started his career as a concert pianist and one of his first compositions was his "Prelude in C# minor". His first symphony was written in 1895 however it wasn't very successful in it's first performance in 1897. This set back almost caused him to abandon composing but his luck changed for the better when his 2nd piano concerto in 1901 was successfully received. Other work of Rachmaninov's includes the two operas "Aleko" (1892) and "Francesca da Rimini" (1905).
In 1904 he became the conductor of Bolshoy Theater in Moscow until 1906. Due to political conditions in Russia during this period, he also set up home in Dresden where he wrote his 2nd symphony (1907) and his symphonic poem "The Isle of the Dead" (1909). He toured the United States in 1909 before moving back to Russia. Work from this period includes the two sets of "Etudes-tableaux" (1911-17), "The Bells" (1913) and two unaccompanied choral works for the Orthodox Church.
Within two months of the October Revolution in Russia, Rachmaninov and his family left Russia and moved to the United States where they lived for the rest of their lives. He became a professional pianist, touring and recording. His 4th piano concerto was written in 1926, his "Corelli Variations" for piano solo in 1931, the "Paganini Rhapsody" for piano and orchestra (1934), his "3rd symphony" (1936) and his "Symphonic Dances" (1940). Whilst in America, he composed with American orchestras in mind and was often able to get the Philadelphia Orchestra to perform his work. He died at his home in Beverly Hills in 1943.
Essential Albums:
Click on album cover to buy.