Home
|
Encylopaedia
|
Composers
| BJ?RK
BJ?RK (1966-)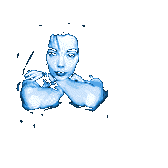 Bj?rk Gundmundsdottir was born on the 21st November 1966 into a hippy commune in Iceland and released her first record while only 11 years old. Her teachers submitted a tape of her singing and her debut album contained such songs as the Beatles "Fool on the Hill". She made her early stage appearances with her step father, who was in a rock band and she studied classical piano whilst at school in Reykjavik. She became the singer for a band called Toppie Tikarras which recorded two albums between 1981 - 1983, then later on, Theyr. Theyr collaborated on several projects with Jaz Coleman and Youth from Killing Joke. In 1986 she was in a band called Kukl which later broke away to form the Sugarcubes with Thor Eldon on 8th June 1986. She also gave birth to a son, Sindri on this date.
Other members of the Sugarcubes included Bragi Olaffson, Einar Orn Benediktsson, Margret Ornolfsdottir and Sigtryggur Balduresson. The Sugarcubes ran their own company in Iceland called Bad Taste which included an art gallery, poetry book shop, record label, radio station and publishing house. The Sugarcubes split in 1992 after releasing the albums "Life's Too Good" (1988), "Here Today, Tomorrow, Nest Week" (1989), "Stick Around For Joy" (1992) and "It's It Remixes" (1992).
After the Sugarcubes, Bj?rk went solo and completely changed her musical direction more towards dance style. Bj?rk's solo projects included guest vocals on 808 State's 1991 album "Ex:El" and on their "Oops" single. She also worked with other artists such as Nellee Hooper and Tricky.
Her "Human Behaviour" single was released in 1993 on which she worked with Underworld and Bassheads. She also appeared at the 1993 Brit Awards, duetting with PJ Harvey. The album "Debut" (1993) followed which contained her next single release "Play Dead" on which she worked with Tim Simenon of Bomb The Bass. This album earned Bj?rk an award for Best International Newcomer and Best International Artist at the 1994 Brit Awards.
Other projects in 1994 included Bj?rk co-writing the title track to Madonna's "Bedtime Stories" album. She collaborated with Black Dog on "Venus as a Boy" and David Morales, Justin Robertson and Fluke on "Big Time Sensuality". In 1994, the remix version of "Big Time Sensuality" was a dance floor hit. Her next album was the multi-platinum "Post" (June 1995) that reached no.2 in the UK album charts. It contained the singles "Army of Me" which reached no. 10 in the UK, "Isobel" which reached no.23 and "Hyperballad". "It's Oh So Quiet" was a hit in 1995, reaching the no.4 position in the UK. In 1996 Bj?rk released her remixed album "Telegram", containing completely remixed tracks from her "Post" album.
Bj?rk often made press headlines due to her relationship with Goldie and due to her attack on an intrusive reporter. In 1996, Bj?rk was awarded the Best Female International Artist Award at the Brits. Her third solo album "Homogenic" was released in 1997. She won best actress award at the Cannes Film Festival for her portrayal of a blind woman on death row in Lars von Trier's musical, "Dancer in the Dark", for which she released the soundtrack "Selmasongs".
Essential Albums:
Click on album cover to buy.


Discography:
Debut (1993)
Post (1995)
Telegram (1996)
Homogenic (1997)
Selmasongs: Music from the motion picture (2000)