Home
|
Encylopaedia
|
Composers
| HALLE
Adam de la HALLE (1237(?)-1238)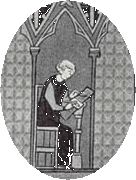 An early French composer, also known as Adam le Bossu (Adam the Hunchback). He broke with the liturgical traditions becoming an early exponent of secular poetry and music. It is believed that he came from Arras in France, his father being a well known citizen of the town.
Originally intending to enter the church, Adam renounced this intention and married a girl called Marie who features in several of his works. He became attached to the court of Charles of Anjou, brother of Charles IX and it is here that he wrote his most famous work 'Jeu de Robin et Marion'.
His known works include thirty-six chansons (literally, "songs"), forty-six rondets de carole, eighteen jeux-partis, fourteen rondeaux, five motets, one rondeau-virelai, one ballette, one dit d'amour, and one cong?.