Home
|
Encylopaedia
|
Composers
| BLONDIE
BLONDIE (1974-)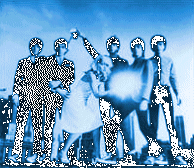 Blondie was formed in New York in August 1974 from the remains of the band The Stilettoes and included singer Deborah Harry (b. 1st July 1945) formerly of Wind in the Willows, Chris Stein (b. 5th January 1950) on guitar, Fred Smith and Billy O'Conner (who was later replaced with Clem Burke (b. 24th November 1955) on drums in May 1975). Smith left to be replaced with Gary Valentine on bass with the addition of keyboard player James Destri (b. 13th April 1954) in October. Harry and Stein had become an item by now. Their debut single was "X-Offender" (1976) which was released on Private Stock. Their debut album "Blondie" was released in 1976 under Private Stock and then again under Chrysalis in October 1977 when Chrysalis bought their contract. Valentine left the band in July 1977 and was replaced with Frank Infante.
Their second album was "Plastic Letters" (1977). Nigel Harrison joined the group later on in November as bassist and Infante moved to guitar. Their "Denis" (1978) and "(I'm Always Touched by Your) Presence Dear" singles both reached UK top 10 chart positions. Their third album was "Parallel Lines" (1978) produced by Mike Chapman and containing the tracks "Picture This", "Hanging On The Telephone" and "Heart of Glass" which reached no.1 positions in both the US and UK. "Eat To The Beat" (1979) was Blondie's fourth album, containing the singles "Dreaming", "Union City Blue" and "Atomic" which reached the UK no.1 position. The track "Call Me" was produced by Giorgio Moroder and became the theme for the American Gigolo film in 1980.
"Autoamerican" album was released in 1980 containing the singles "The Tide Is High" which reached no.1 in both the US and the UK and "Rapture" which was heavily influenced by hiphop and rap styles. In 1981, the members of Blondie each began to concentrate on their solo projects. Harry released her solo "Koo Koo" album and Blondie released "The Best of Blondie". "The Hunter" album was released in 1982 containing the single "Island of Lost Souls". The band disbanded in October 1982 only to reform again. The lineup of Harry, Stein, Destri and Burke reunited to tour Europe in 1998 with the release of another album "No Exit" (1999).
Essential Albums:
Click on album cover to buy.

Discography:
Blondie (1976)
Plastic Letters (1977)
Parallel Lines (1978)
Eat to the Beat (1979)
Autoamerican (1980)
The Hunter (1982)
No Exit (1999O
Live in New York (1999)