Home
|
Encylopaedia
|
Composers
| BOWIE
David BOWIE (1947-)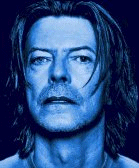 David Bowie was born David Jones in Brixton UK on the 8th January 1947, however he changed his name in 1966 to avoid confusion with Davy Jones of the Monkees. He was interested in music from a very early age and started out playing saxophone with a number of different bands including the King Bees, the Mannish Boys and the Lower Third all of which had unsuccessful singles. He had released a total of nine singles and one album before he became successful. In 1967 he signed with Deram and released "David Bowie" before spending some time in a Buddhist monastery. On leaving he studied with Lindsay Kemp's mime troupe and formed his own mime company called Feathers in 1969. This was short lived and his next project was to form the experimental art group Beckenham Arts Lab also in 1969.
David Bowie is well known for a changing series of sexually ambiguous characters such as Ziggy Stardust, Aladin Sane and Diamond Dogs. In 1969 he signed with Mercury and released the album "Man of Words, Man of Music" and released "Space Oddity" which was played at the Rolling Stones concert in Hyde Park before reaching the top 5 in the UK charts and no.15 in the US charts. It coincided with the American moon launch. His influence was Stanley Kubrick's film "2001 - A Space Odyssey" in 1968. The song also reached the UK no.1 position in 1975 after being remixed. His follow up single was "Ashes to Ashes".
Bowie had a brief spell miming and touring with his friend Marc Bolan of T-Rex. He even briefly formed the band Hype with Bolan, Tony Visconti, Mick Ronson and Cambridge. At the turn of the decade, he began changing his image again to an androgynous look. He wore a dress on the cover of the 1970's album "The Man who Sold the World" and in 1972, he declared his bisexuality to the "New Musical Express".
At a performance in 1970, he wore a "Rainbowman" costume and in March of that year, he married his girlfriend Angie who was the main driving force behind his various images. The weird image of Ziggy Stardust became popular and a following of adoring fans was soon established. His backing band of Ronson, Woodmansey and Trevor Bolder were known as The Spiders From Mars. In 1970, Tony DeFries was involved in working out a settlement between Bowie and his former manager, Ken Pitt. DeFries later became Bowie's manager himself. With DeFries promoting his career, Bowie was signed to RCA records and completed the "Hunky Dory" album in 1971.
He sold more than a million copies of "The Rise and fall of Ziggy Stardust and The Spiders from Mars" in 1972. Also in 1972, he produced "Transformer" for Lou Reed, "Raw Power" for The Stooges and "All The Young Dudes" for Mott the Hoople and for which he wrote the title track. Another number one album followed with "Aladdin Sane". In 1974, Ziggy Stardust retired from the stage and Bowie released "Pin Ups" which included his favourite mid 1960s songs.
After recording a US broadcast television special at London's marquee club titled "The 1980 floor show" Bowie produced his next album "Diamond Dogs" containing the single "Rebel Rebel". Bowie's popularity was as strong as ever during the mid 1970s and his next work "Young Americans" saw him tackle Philadelphia soul. This gave him his first no.1 US hit with "Fame". During the same year, his business relationshipp with DeFries was dissolved and his marriage to Angie was terminated. He moved to Los Angeles and his next piece of work was Nicolas Roeg's film "The man who fell to Earth" in which he was given the leading role.
Bowie's next image was the Thin White Duke who came to life in his next album "Station to Station" (1976) containing the single "Golden Years". He moved to Berlin where his next project included a collaboration with Brian Eno on various albums such as "Low" and "Heroes" which were released in 1977. These albums were heavily influenced by Eno's passion for minimalist electronics. Bowie concluded his work with Eno on the 1979 album "Lodger". His next album, "Scary monsters" included the electric guitar sound of Robert Fripp. During this period Bowie also worked on Iggy Pop's "The Idiot" and "Lust For Life".
The 1980s saw Bowie being involved in another collaboration with Queen "Under Pressure" and with Bing Crosby "Peace on earth/Little Drummer Boy". He also starred in two films, "The Hunger" and "Merry Christmas Mr. Lawrence". He switched his record label from RCA to EMI and released his "Let's Dance" before embarking on his "Serious Moonlight" tour. Also, in 1983, he had two more hits with "China Girl" and "Modern Love".
Bowie soon followed with "Tonight" which did not meet with as much acclaim as "Let's Dance". More collaborations occurred with the Pat Metheny Group "This is not America" and with Mick Jagger "Dancing in the Street" for Live Aid. Bowie also carried on with acting in films such as "Absolute Beginners" and "Labyrinth". He also sang the theme of the anti-nuclear war cartoon film "When the wind blows", which was released as part of the album soundtrrack by Roger Waters.
In 1987, Bowie teamed up with Peter Frampton for the "Glass Spider" tour. The album, "Never Let me Down" was not a great success. In 1989, he formed Tin Machine.
Essential Albums:
Click on album cover to buy.




Discography:
Man of Words/Space Oddity (1969)
Space Oddity (1969)
The Man Who Sold The World (1970)
The Rise & Fall Of Ziggy Stardust (1972)
Hunky Dory (1972)
Aladdin Sane (1973)
Pin-Ups (1973)
David Live (1974)
Diamond Dogs (1974)
Young Americans (1975)
Station to Station (1976)
Low (1977)
Heroes (1977)
Evening With David Bowie (live) (1978)
Prokofiev's Peter and the Wolf (1978)
Stage (live) (1978)
Lodger (1979)
Scary Monsters (And Super Creeps) (1980)
Ziggy Stardust (live) (1982)
In Bertolt Brecht's "Baal" (1982)
Let's Dance (1983)
Tonight (1984)
Never Let Me Down (1987)
Black Tie White Noise (1993)
Jump: Interactive (1994)
Outside (1995)
The Buddha of Suburbia (1995)
Earthling (1997)
Hours (1999)
London Boy (2001)