Home
|
Encylopaedia
|
Composers
| BRAGG
Billy BRAGG (1957-)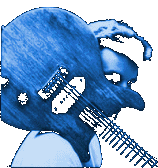 Steven William Bragg was born on December 20th 1957 in Barking in Essex, England and was sometimes known as the "Bard of Barking". Perhaps most noted for its left-wing politics, his music is often raw and uncompromising. Indeed he began his career with the ill-fated punk band Riff Raff which only lasted a few months. He went on to become well known for singing using only his guitar for accompaniment.
After a short spell in the army - he bought his way out with ?175 and considered it the wisest money he had ever spent - he began working in a record shop and immersed himself in the love of blues and protests songs that was to launch his solo career.
After touring extensively in the UK, taking up support spots at a moment's notice and describing himself as a one-man Clash his first E.P., "Life's a Riot With Spy Vs. Spy" (1983), began to make an impact on the UK independent music charts reaching the no.30 position. His album, "Brewing Up with Billy Bragg" (1984) reached No.16 in the UK national charts and a cover of his song "New England" performed by Kirsty MacColl climbed to No.7 in 1985.
Bragg became heavily involved in left-wing politics, offering support and anthems to the striking miners in 1984 with songs such as "Whose Side Are You On?" and he was also a leading figure in the 'political awareness through music' project that was known as "Red Wedge".
Despite his continued political activism Bragg continued to write a variety of music, including a few love songs such as "Levi Stubbs' Tears" which appeared on the album "Talking To The Taxman About Poetry". 1991 saw the album "Don't Try this At Home", which was widely acclaimed and a big commercial success. It was followed in 1996 by the album "William Bloke" which, for many, elevated Bragg from a quirky left-wing protest-singer to a celebrated English songwriter.
Essential Albums:
Click on album cover to buy.

Discography:
Brewing Up (1984)
Talking With The Taxman about Poetry (1986)
Workers Playtime (1988)
Don't Try This At Home (1991)
William Bloke (1996)
Mermaid Avenue (1998)
Mermaid Avenue, Vol.2 (2000)
Billy Bragg (2000)