Home
|
Encylopaedia
|
Composers
| BRAHMS
Johannes BRAHMS (1833-1897)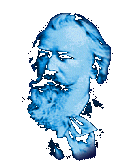 Brahms was born on the 7th May 1833 in Hamburg and was taught the violin by his father and piano by Otto Cossel. He was later sent to Eduard Marxsen, a leading Hamburg pianist and composer for lessons. He had a classical upbringing and he made his public debut as a pianist in 1848 when he was only 15. He was a German composer whose music started out fiery and influenced by Liszt but became more conservative with time and represented the classical aspect of romanticism.
Brahms was introduced to the violinist Joachim in Hanover at an early age after touring with the Hungarian violinist Eduard Remenyi in 1850. He was in turn brought into contact with Liszt and Schumann. They encouraged his composing and he also became close friends with the Schumann family. During the 1850s he spent a few months each year at the small court at Detmold where he was able to work with an orchestra. Work from this period includes "Piano Concerto in D minor". After Schumann's death in 1856, Brahms became the piano teacher to Princess Friederike and the choral conductor at the court of Lippe-Detmold from 1857-1860. He was passionately devoted to Clara Schumann, Robert having gone insane.
In 1859 he founded and conducted a ladies choir in Hamburg. In 1860 he signed the famous manifesto opposing "new music" methods adopted by Liszt and his followers and thereafter was thought of as being the opposite to the Wagnerian school of German music. In 1862, he visited Vienna where he lived for the next thirty five years. From 1863-4, he was conductor of the Vienna Singakademie and also made a living by playing and teaching. In 1872 he succeeded Rubinstein as artistic director of Gesellschaft der Musikfreunde until 1875. He wrote his "St. Antony Variations" in 1873.
Brahms used smaller orchestras in his symphonies than other composers. His music includes sonatas including his 3 violin sonatas, the last being written in 1888 and four symphonies (excellent examples of classical musical architecture), the first written between 1855-1876 (in C minor) that was very successful. His second in 1877 was gentler and more relaxed and was written at a Lakeside resort. This was first performed by the Vienna Philharmonic. His third was written in 1883 and his fourth in 1885.
There are also two piano concertos, a violin concerto (1878) which he wrote for his friend Joachim and a double concerto for violin and cello (1887). He was inspired by Dvor?k's cello concerto. His string quintet was written in 1890. He wrote music for the piano and also the voice. The director of the orchestra of the Duke of Meiningen (Hans von Bulow) offered Brahms the use of the Meiningen orchestra in 1881. He wrote well over 200 songs which are largely based on German folk songs but are more refined and polished. His choral compositions include the "German Requiem" (1868) which was his first major success when it was performed in 1869.
In 1891 he wrote his "Clarinet Quintet" after being inspired by the clarinettist Richard M?hlfeld. His last set of compositions were the "Four Serious Songs" (1896) which he set to biblical texts. Brahms was a master in every form of composition except opera, which he never attempted. He is also known to have destroyed much that he wrote. He never married and developed cancer of the liver in 1896. He died in the spring of 1897.
Essential Listening: