Home
|
Encylopaedia
|
Composers
| BUKEM
LTJ BUKEM (1967-)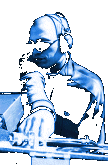 LTJ Bukem aka Daniel Williamson is a well known and influential DJ, producer and re-mixer of jazz based intelligent Drum'n'Bass. He is also a talented musician, playing the piano, trumpet and drums. He was introduced to classical music at an early age and was lucky enough to have had a good music teacher as a child - Nigel Crouch. His musical influences include jazz, soul, hip-hop, electro and classical.
He became a familiar face DJing with the Sunshine Sound System during the mid 1980s and he made his breakthrough when he played at Raindance in 1990. In 1993 along with Fabio and MC Conrad, he launched the club Speed at the Mars Bar in central London which featured DJs such as Adam F, Alex Reece, Deep Blue and Goldie. He became well known for playing here with Fabio, Kemistry and Storm and DJ Lee.
He released his first track "Logical Progression" in 1990. Other releases include the "Demon's Theme" track (1991), "Bang the Drums" track (1991), "Return to Atlantis" track (1992) and "Music" track (1993) on his own Good Looking label and "Logical Progression" (1991) on vinyl mania. He also reworked Jodeci's "Feenin" (1995). He collaborated with Tayla on "Bang the Drums" and "Apollo" and through London Records has released "Logical Progression Compilation" which was a great success. His Progression series volume 1 started in 1998 and reached volume 5 in 2000.
LTJ Bukem's sound is characterised by his use of strings. He doesn't sample old breakbeats, rather he prefers to create his own rhythm tracks. In 1991 he formed his own label, Good Looking Records and by 1994 he had his second label Looking Good Records. His Earth Label soon followed.
LTJ Bukem formed a touring collective called Logical Progression which features Peshay, Photek, Blame, PFM, Tayla and Nookie. His "Journey Inwards" album was released in 2000 under Good Looking Records.
Essential Albums:
Click on album cover to buy.
Discography:
Journey Inwards (2000)
Progression Sessions, Vol 5 (2000)
Producer 01 (2001)
Logical Progression, Level 4 (2001)