Home
|
Encylopaedia
|
Composers
| CAN
CAN (1968-)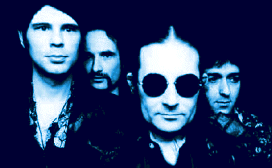 Can formed in 1968 in Cologne, Germany. Always at least three steps ahead of contemporary popular music, Can was the leading avant-garde rock group of the '70s and are probably the best of the "Krautrock" bands. From their very beginning, their music didn't conform to any commonly-held notions about rock & roll -- not even those of the countercultures. Inspired more by 20th century classical music than Chuck Berry, their closest contemporaries were Frank Zappa or possibly the Velvet Underground. Yet their music was more serious and inaccessible than either of those artists. Instead of recording tight pop songs or satire, Can experimented with noise, synthesizers, non traditional music, cut-and-paste techniques, and, most importantly, electronic music; each album marked a significant step forward from the previous album, investigating new territories that other rock bands weren't interested in exploring. They had the ability to improvise spontaneously from nothing to create fine music.
Throughout their career, Can's lineup was fluid, featuring several different vocalists over the years; the core band members remained keyboardist Irmin Schmidt, drummer Jaki Leibezeit, guitarist Michael Karoli, and bassist Holger Czukay. Both Czukay and Schmidt had studied under the classical composer Karlheinz Stockhausen and they were both involved in teaching classical music themselves. The group initially started off playing as Inner Space.
Can debuted in 1969 with the primitive, bracing "Monster Movie" album, recorded with 2-track technology and the only full-length effort to feature American-born vocalist Malcolm Mooney, who had previously had no musical background. Mooney's demented and unique performances were all part of the band's live appeal, however Mooney left and went back to America under advice from a psychiatrist.
Czukay soon found another singer in Kenji "Damo" Suzuki, a young Japanese busker who impressed them by singing like a banshee. He found himself fronting the band the same night that they found him and his confrontational approach often led to fights breaking out in the audience. The album "The Can Soundtracks" (1970) was released which included a collection of film music, and featured "Mother Sky," one of the group's best-known compositions. During the same year, they set up their own Inner Space studio outside Cologne, working with Conny Plank. This studio was used by no-one but themselves and every piece of music Can ever produced was made there. It was initially in a castle (Schloss N?rvenich) but was eventually moved to an old cinema. Much of their music was recorded on a two track machine with Czukay acting as the engineer. They acquired a sixteen track machine in 1974.
Soon after they released the two-record set album "Tago Mago" (1971). During the '70s, they were extremely prolific, recording as many as three albums a year at the height of their career. With "Tago Mago", Can hit its visionary stride, shedding the constraints of pop forms and structures to explore long improvisations, angular rhythms and experimental textures. The tracks "Halleluwah", "Aumgn" and "Peking O" were included.
The album "Ege Bamayasi" (1972) refined the approach, and incorporated an increasingly jazz-like sensibility into the mix; "Future Days" (1973), recorded as Suzuki's swan song, travelled even further afield into minimalist, almost ambient new territories. In 1973, Suzuki left to become a Jehovah's Witness. His departure did not make a massive impact however, and with 1974's "Soon Over Babaluma", Can returned to more complicated and abrasive ground, introducing dub rhythms as well as Karoli's shrieking violin. Karoli and Schmidt took over the vocal duties.
In 1975, they were signed to Virgin and albums that followed were "Landed" (1975) and "Flow motion" (1976). Apart from a surprise U.K. Top 30 hit in 1978 -- "I Want More" written by David Gilmour and from the "Flow Motion" album -- they were never much more than a cult band; even critics had a hard time appreciating their music.
Two compilations were issued as "Limited Edition" (1974) and "Unlimited Edition (1976)". 1977's "Saw Delight" proved equally restless, and drew on a wide range of ethnic musics. When the band split in 1978 following the success of the album "Flow Motion" and the hit "I Want More," they left behind a body of work that has proven surprisingly groundbreaking. Echoes of Can's music can be heard in Public Image Limited, the Fall, Happy Mondays, New Order, David Sylvian, Annie Lennox & Dave Stewart, Brian Eno, and Einsturzende Neubauten, among others. As with much aggressive and challenging experimental music, Can's music can be difficult to appreciate, yet their albums offer some of the best experimental rock ever recorded.
Post-Can Holger Czukay has produced a variety of world music fuzions and collaborated with Jah Wobble, David Sylvian, U2's the Edge and has occasionally fronted his own band. In 1986, the core members of Can participated in a one-off reunion in the studio with a tamed Malcolm Mooney. The resultant album "Rite Time" was released in 1989. Most of the Can back catalogue has been re-issued on Spoon, a Mute Records subsidiary.
Essential Albums:
Click on album cover to buy.


Discography:
Monster Movie (1969)
Soundtracks (1970)
Tago Mago (1971)
Ege Bamyasi (1972)
Future Days (1973)
Soon Over Babaluma (1974)
Landed (1975)
Flow Motion (1976)
Unlimited Edition (1976)
Saw Delight (1977)
Out Of Reach (1978)
Can (1979)
Delay 1968 (1981)
Rite Time (1989)
Sacrilege (1997) (at Mute)
Cannibalism (1980)
Anthology-25 Years
Deluge
PhantomBand
Canaxis
Moving Pictures
Movies
Peak of Normal
Toy Planet
Musk/Holidays
Soundtracks-Anthology
Gormenghast